End to Iraq's epic journey in sight?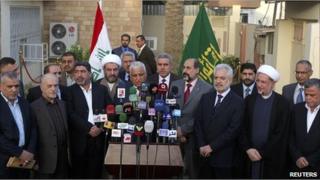 The decision by the Shia National Alliance to support Nouri Maliki for a second term as prime minister has raised some hope for an end to Iraq's epic journey from elections to a new government.
The step came just as the country was winning the dubious distinction of breaking the world record for the length of time it is taking to form the new government, passing the 208-day mark set by the Netherlands in 1977.
But it seems likely that the old record will be broken by quite a substantial margin, as the process of settling the contending factions into a viable governing formation still has some way to run.
Winning the support of his fellow Shia in the National Alliance was always a necessary step for Mr Maliki.
The fact that it has taken so long is testimony to the antagonisms and rivalries that have prevented the Shia from forming a cohesive bloc in the current struggle, and which could well bedevil the smooth functioning of a new administration.
Even if Mr Maliki has won the support of all the factions grouped in the National Alliance - which does not seem to be the case - he would still be a few seats short of the 163 he needs to enjoy an outright majority in the new parliamentary.
In fact, he may be more than a few seats short.
The militant young cleric Moqtada Sadr - who has been living in Iran for several years now - performed a sharp about-turn to put his 39 seats behind Mr Maliki.
But there is no love lost between the two men - the incumbent prime minister crushed Mr Sadr's Mehdi Army militia in 2008 - and they are likely to make uncomfortable bedfellows.
Mr Sadr's followers took part in Mr Maliki's first government, but pulled out in 2006.
Alternative
Other factions in the Shia alliance have not signed up to supporting Mr Maliki's bid for a second term.
They include the Islamic Supreme Council of Iraq, headed by Ammar al-Hakim, and a smaller party called Fadhila. Together, they command some 24 places in the 325-seat parliament.
Mr Maliki's chief rival, former Prime Minister Iyad Allawi, who came out just ahead in the election race with 91 seats to Mr Maliki's 89, could theoretically still stitch together a coalition that would outgun the incumbent.
If Mr Allawi won the support of the Kurds, who control 57 seats, and brought on board the leftover Shia factions, a small Sunni group and a smaller independent one, he could on paper amass 175 seats or more, and thus win a majority.
The coming days - possibly even weeks or months - will see a lot more jostling and probing to try to find a combination that will work.
The Kurds, for example, are unlikely to fall meekly in behind Mr Maliki, with whose previous rule they were not happy.
They will want to exact a high price from him, or any other aspirant, in terms of their own national goals and demands, such as their claim to the disputed oil-rich province of Kirkuk.
Log-jam
Numbers are important, but it is not simply a numbers game.
All have agreed from the beginning that the four major electoral factions - Mr Allawi's secular, but Sunni-supported Iraqiya list; Mr Maliki's Shia State of Law coalition; the other Shia alliance; and the Kurds - must all be included in the new government.
The Kurds cannot be excluded in this binational country, based on a sometimes tense partnership between them and the Arabs.
And to exclude Mr Allawi's bloc would be to marginalise not just the biggest vote winner but also the bulk of the Sunni electorate, with potentially explosive consequences.
But Mr Allawi, who spent some time exploring a possible power-sharing deal with Mr Maliki, has said his followers would not take part in a Maliki-led government.
That log-jam, pitting the two main contenders in a head-to-head tussle in which neither will cede to the other, is the most central of many complications, and it could hold up rapid progress towards a new government for a long time.
It is not a question of which factions should be involved in the new government, but who should lead it, what the balance should be within it, and who gets which jobs.
Foreign players
Behind the relatively overt local sparring, there is also a discreet proxy struggle going on, involving regional and international powers, which are watching developments closely.
The shape the new government takes will reflect the perceived balance of regional power, which is one reason it is taking so long, as often nebulous factors such as "influence" are asserted and tested in a constantly changing environment.
Iran is believed to have used its clout to persuade Moqtada Sadr to swing behind Mr Maliki, although Tehran's relations with the incumbent are somewhat ambivalent.
The move was not warmly welcomed by Washington, which would probably have preferred to see the militant cleric - whose followers fought US forces - sidelined from an otherwise inclusive administration.
The Americans have not overtly backed any of the contenders, but certainly would regard the exclusion of Mr Allawi and his Sunni supporters as a dangerous and potentially destabilising development, despite their concern about some of his alleged Baathist connections.
Mr Allawi has the support of most of Iraq's Sunni Arab neighbours, but also apparently of Syria, whose president, Bashar al-Assad, flew to Tehran on Saturday to confer with his Iranian allies over Iraq and other regional contests, such as Lebanon and the Palestinian-Israeli struggle.
Security concerns
With no end in sight to Iraq's protracted uncertainty, much concern has been expressed about the implications of political stagnation for the security situation, as US forces continue a withdrawal that should see them all gone by the end of next year.
July and August were among the worst months for violence since 2008, though September, with 273 Iraqis killed, was the best month since January, when fewer than 200 were reported to have died violent deaths.
Overall levels of violence are still far below what they were during the sectarian carnage of 2006 and 2007.
But security official are warning that informers, on whom they count for tip-offs that help thwart militant attacks, are now hedging their bets and holding back in the uncertain political climate.
The uncertainty is also being blamed for a sharp reduction since the 7 March election in the number of Iraqi refugees returning from abroad to try to rebuild their lives in the country,
While it's hard to measure something that is not happening, the overall reconstruction effort is certainly well behind where it had been expected to be by now, and investors are clearly wary about risking money in an unstable situation.