Main Iraq Shia coalition nominates Nouri Maliki for PM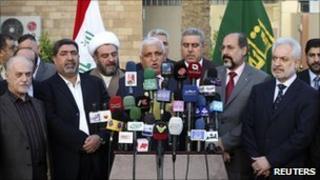 Iraq's main Shia coalition has announced it has chosen to nominate the incumbent Prime Minister, Nouri Maliki, for a second term of office.
The National Alliance's failure to agree on a candidate had been the major factor holding up the formation of a new government since March's election.
A spokesman said it wanted to build, change and overcome past obstacles.
However, the alliance still does not command the parliamentary majority needed to confirm the appointment.
The secular Iraqiya bloc led by former Prime Minister Iyad Allawi, which narrowly won the election, has said it would oppose such a move.
At midnight on Friday, Iraq will break the world record for the amount of time taken to form a new government. In 1977, it took political parties in the Netherlands 208 days to produce a new administration.
Ongoing negotiations
The National Alliance (NA) - a merger of Mr Maliki's State of Law coalition and the Iraqi National Alliance of the radical Shia cleric Moqtada Sadr - was formed in June to deny Mr Allawi the chance to form a government.
Together, it is just four seats short of an absolute majority in the 325-seat Council of Representatives, well ahead of Iraqiya's 91 seats.
At a news conference in Baghdad on Friday, a National Alliance spokesman said that following lengthy talks, it had been agreed to nominate Mr Maliki.
"The NA has tasked its negotiating team to start holding negotiations with the other winner blocs in order to form a national partnership government that would perform the duties of the coming stage," Falih al-Fayyad said.
"While the NA announces its candidate for the post of prime minister, it promises all the sons of the Iraqi people that it has a serious and sincere will to build, change and overcome the obstacles of the past."
The BBC's Jim Muir in Baghdad says Mr Maliki's nomination after months of wrangling certainly gives him a boost, but he is not home yet.
Even at full strength, the National Alliance falls short of a parliamentary majority, and it is not even sure that all of its constituent groups are on board, our correspondent says.
Moqtada Sadr's Iraqi National Alliance, which commands about 40 seats, staged a sudden turnaround to back Mr Maliki, apparently under Iranian pressure, and will be a reluctant partner, he adds.
Smaller groups, including the Supreme Council and the al-Fadhila bloc, said they had not agreed to nominate Mr Maliki.
Much will therefore depend on the position taken by the Kurdistan Alliance, which controls 43 seats and is part of Mr Maliki's outgoing coalition government, as the Iraqiya bloc will not lend its support.
However, everybody has agreed all along that all the main factions must be involved, and that excluding Mr Allawi's bloc would be dangerous, as it practically monopolised the Sunni vote, our correspondent says.
So a lot more wrangling will clearly be needed, before a government can emerge, he adds.