US and EU diplomats try to salvage Middle East talks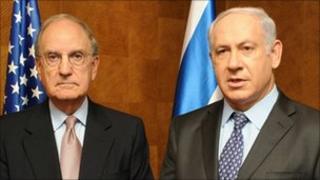 US and European diplomats are continuing efforts to salvage the Middle East peace talks.
EU foreign policy chief, Baroness Ashton, has met Palestinian PM Salam Fayyad in the West Bank, and is heading to Jerusalem to meet Israel's Benjamin Netanyahu.
US envoy George Mitchell was scheduled to make the reverse journey.
The Palestinians say they will quit the talks unless Israel extends its partial freeze on settlement building.
Mr Netanyahu has said that his right-wing coalition could fracture if the construction freeze, which expired on Sunday, is extended.
Direct peace talks between the Israelis and Palestinian were resumed in Washington in September after a 20-month hiatus.
The US administration has given them strong backing, but has not been able to persuade the Israeli government to extend its partial moratorium on settlement building.
Israel has occupied the West Bank since the Middle East war of 1967, settling some 500,000 Jews in more than 100 settlements which are held to be illegal under international law, although Israel disputes this. About 2.5 million Palestinians live in the West Bank.
Hamas, which controls the Gaza Strip and is not taking part in the talks with Israel, has urged Palestinian Authority President Mahmoud Abbas to withdraw from them.
Letter denied
Mr Mitchell and Mr Abbas had held two hours of talks in Ramallah on Thursday.
"We are determined to continue our efforts to find common ground between the parties to enable the direct negotiations to continue," he said afterwards.
Israeli and US media reports say that Mr Netanyahu had turned down a US offer of a package of benefits in exchange for a two-month extension of the moratorium on settlement building.
This was reportedly laid out in a letter from Barack Obama to the Israeli PM, though a White House spokesman has denied the existence of a letter.
Palestinian officials have indicated that a final decision about continuing with the talks will follow a meeting of Arab leaders in Cairo on Wednesday.
The meeting was pushed back by two days to give more time for efforts to save the peace talks, an Arab League spokesman said.
Ahead of that, The Palestine Liberation Organisation's executive committee, which is chaired by Mr Abbas, will convene in Ramallah on Saturday to discuss the fate of the peace talks, PLO officials said.