Israeli doctors' group wins 'alternative' Nobel prize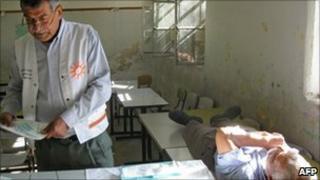 An Israeli doctors' group has been named as one of the four winners of this year's Right Livelihood award - dubbed the alternative Nobel prize.
Physicians for Human Rights Israel was recognised for operating mobile clinics in occupied Palestinian territories and campaigning for patients' rights.
The Rights Livelihood awards honour the power of grassroots change, the Sweden-based foundation said in a statement.
Four recipients will share the 200,000 euro (£172,000; $273,000) prize.
The award was founded in 1980 by Swedish-German philanthropist Jakob von Uexkull to recognise work he felt was being ignored by the Nobel Foundation.
Other winners of the 2010 awards include Nigerian and Brazilian environmentalists, as well as Nepalese community activists.
Campaigning doctors
The prize will be presented to the four recipients in a ceremony at the Swedish parliament on 6 December, four days before the Nobel Prizes are handed out.
Physicians for Human Rights Israel (PHRI) was included for its "indomitable spirit" in working for the right to health for all people in Israel and the Palestinian territories, the Right Livelihood foundation said in a statement.
The Tel Aviv-based group was founded in 1988 at the start of the intifada by Dr Ruchama Marton and Israeli and Palestinian physicians.
It provides healthcare to impoverished Palestinians and migrant workers, and lobbies against what it sees as repressive policies of the Israeli government.
In a statement, Dr Marton said that the award strengthens the group's "ongoing struggle against all sources of oppression".
As a result of the blockade of Gaza, hospital facilities are extremely poor, medicines are scarce and dozens of people die each year waiting for permission to be treated in Israel, the UN has said.
Although Israel and Egypt have eased the blockade of the Gaza Strip, the movement of Palestinians is still severely restricted.
Israel says the restrictions are necessary to pressure militants to stop firing rockets from the Hamas-run territory.