US soldier held over deaths of two colleagues in Iraq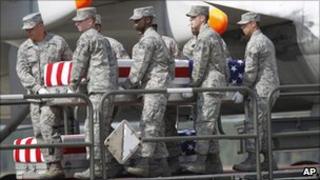 An American serviceman is in custody in Iraq, in relation to the deaths of two of his colleagues.
Specialist Neftaly Platero was in pre-trial confinement after an incident in Fallujah, 40 miles (65km) west of Baghdad, a US forces spokesman said.
A "verbal altercation" broke out among four soldiers last Thursday and the suspect "allegedly took his weapon and began shooting the other soldiers", said the spokesman, Col Barry Johnson.
An investigation is underway.
Those killed were identified by the Pentagon as Specialist John Carrillo and Pte Gebrah Noonan, who were assigned to 3rd Battalion, 15th Infantry Regiment, 4th Infantry Brigade Combat Team.
Another soldier, who has not been identified, was wounded in the shooting, but no details were given about the extent of his injuries.
Military spokesman Brig Gen Jeffrey Buchanan said US forces were "saddened by this tragic event".