Egypt's pope 'sorry' for bishop's Koran comments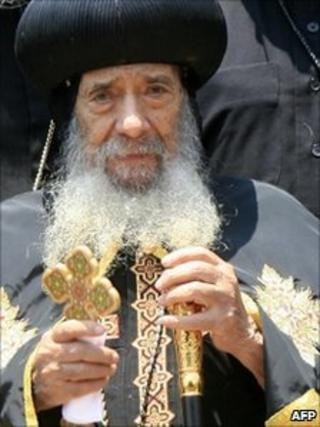 The leader of Egypt's Coptic Christians has apologised for "inappropriate" comments by a bishop that cast doubt on the authenticity of some Koran verses.
"I'm very sorry that the feelings of our Muslim brethren have been hurt," Pope Shenouda III said on state TV.
Earlier, Bishop Bishoy had said that - contrary to Muslim belief - some verses of the Koran may have been inserted after the death of Prophet Muhammad.
Egypt's al-Azhar Islamic authority said the comments threatened national unity.
"This kind of behaviour is irresponsible and threatens national unity at a time when it is vital to protect it," said Grand Imam Ahmed al-Tayyeb in a statement issued on Saturday by al-Azhar, one of the key centres of religious learning in Sunni Islam.
He was reacting to comments carried in the Egyptian media in which Bishop Bishoy, the Coptic Church's second highest clergyman, called into question the Koranic verses disputing the divine nature of Jesus Christ.
The bishop reportedly said the verses were inserted after Prophet Muhammad's death by one of his successors.
'Deep red line'
Muslims believe that all the verses of the Koran were revealed to the prophet through the Archangel Gabriel and they are the immutable word of God.
"Debating religious beliefs are a red line, a deep red line," Pope Shenouda said in the television interview on Sunday.
"The simple fact of bringing up the subject was inappropriate, and escalating the matter is inappropriate," he added.
Although Egypt's Muslims and Copts generally live in peace, tensions are on the rise over the construction of new churches and reported cases of conversions.
Copts make up six to 10% of the country's 80 million people and complain of systematic discrimination by the state.