Israeli PM urges West Bank settlers to show restraint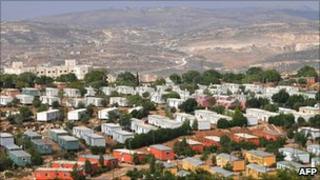 Israeli Prime Minister Benjamin Netanyahu has urged Jewish settlers to show restraint, hours before a 10-month ban on West Bank construction expired.
The freeze ended at 2300 GMT on Sunday, as Jewish settlers prepared to resume building in the occupied territories.
As the ban ended, Mr Netanyahu urged Mr Abbas to continue the talks and work towards a "historic" peace deal.
Palestinian leader Mahmoud Abbas has previously said talks would be a "waste of time" unless the freeze was renewed.
Israel says the settlements are no bar to talks, but US negotiators have been working intensively to secure a deal.
Earlier on Sunday, hours before the expiry of the construction freeze, Mr Netanyahu's office released a statement urging settlers to stay calm.
"Prime Minister Benjamin Netanyahu calls on the residents of Judea and Samaria (the West Bank) and all political players to display restraint and responsibility today and further along the way, exactly as they displayed restraint and responsibility during the 10 months when construction was suspended."
The partial moratorium on new construction was imposed last November under pressure from Washington.
Speaking to Jewish leaders in Paris on Sunday, Mr Abbas said peace talks renewed earlier this month would be futile unless the ban continued.
"If Israel does not continue the settlement freeze, the peace process will be a waste of time," AFP news agency quoted him as saying.
Palestinian officials have threatened to quit the talks if settlement building proceeds.
Israeli Defence Minister Ehud Barak meanwhile has returned home from the US, where he has been leading Israel's negotiating team at the peace talks.
Speaking to the BBC's diplomatic correspondent Bridget Kendall before he left New York, he said he was heading back to Israel to try to convince members of the Israeli government of the need for a compromise but that he was not confident of success.
Mr Barak was more upbeat on the prospects for the peace talks, which resumed after a 20-month hiatus.
"I think the chance of achieving a mutual agreed understanding about the moratorium is 50/50," he told the BBC. "I think the chances of having a peace process is much higher."
"I hope it will not be blocked by this moratorium issue and that we will sail full engines forwards [to] substantial negotiations and agreement."
Ground-breaking
Israel's 10-month freeze on West Bank settlement-building expired at midnight local time on Sunday (2200 GMT). The moratorium freeze has never applied to East Jerusalem settlements.
It is estimated that about 2,000 housing units in the West Bank already have approval and settler leaders say they plan to resume construction as soon as possible.
They are backed by right-wing politicians including members of the Likud party, headed by Mr Netanyahu.
At the Jewish settlement of Revava, near the Palestinian town of Deir Itsia, a rally was held on Sunday to mark the expected end of the freeze on buildings.
"Today it's over and we will do everything we can to make sure it never happens again," settler leader Dani Dayan told the crowd. "We return with new energy and a new determination to populate this land."
Correspondents say any resumption of construction is likely to be small in scale, as most projects will require approval from Israel's defence ministry.
On Thursday, US President Barack Obama urged Israel to extend its moratorium, saying it had "made a difference on the ground, and improved the atmosphere for talks".
Nearly half a million Jews live in more than 100 settlements built since Israel's 1967 occupation of the West Bank and East Jerusalem. They are held to be illegal under international law, although Israel disputes this.