IAEA rejects Arab nuclear resolution on Israel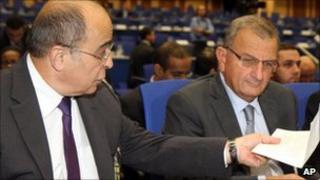 The members of the UN's nuclear agency have narrowly rejected an Arab-backed resolution calling on Israel to join a global treaty limiting nuclear arms.
At the International Atomic Energy Agency (IAEA) annual conference, 51 nations voted against the resolution, 46 for, while 23 abstained.
The US had urged a vote against, saying it could undermine a conference on a nuclear-free Middle East in 2012.
Israel is widely thought to have nuclear arms but has not confirmed so.
The resolution expressed "concern about the Israeli nuclear capabilities" and called on Israel to join the nuclear Non-Proliferation Treaty (NPT). This would require Israel to open any of its nuclear activity to IAEA inspectors.
Before the vote, Israel warned the gathering in Vienna against approving the non-binding resolution.
"Adopting this resolution will be a fatal blow to any hope for future co-operative efforts towards better regional security in the Middle East," said Israel's envoy to the IAEA, Ehud Azoulay, said before the vote.
Washington had also warned the Arab nations that the motion could derail recently resumed peace talks between Israel and the Palestinians.
Arab delegates said Israel's presumed possession of nuclear weapons threatened regional security.
Israel, the US and other Western nations consider Iran to be the region's main threat to nuclear proliferation. Tehran denies its nuclear programme is aimed at developing nuclear bombs.
The US envoy to the IAEA, Glyn Davies, said the vote sent a "positive signal" to the Israeli-Palestinian peace process.
"What's important is that we've stopped some action from occurring that would have made it very difficult to move forward with both the peace process and toward a Middle East free of weapons of mass destruction when that peace is achieved," he said.
A similar resolution, expressing concern at "Israel's nuclear activities", passed at the IAEA last year.
The NPT came into effect in 1970. Israel, India and Pakistan have not signed it.