Iran ready for 'fair' talks on its nuclear programme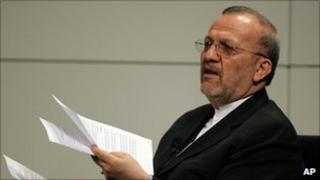 Iran is ready to resume talks on its nuclear programme if they are "fair", Iranian Foreign Minister Manouchehr Mottaki is quoted as saying.
His comments came after the five UN Security Council permanent members and Germany said they hoped for an early negotiated solution to the dispute.
The UN has passed tough sanctions against Iran over its programme, which some fear is aimed at producing nuclear weapons.
Iran insists its programme is peaceful.
There has been a great deal of diplomatic manoeuvring on this issue on the sidelines of the UN General Assembly in New York.
Mr Mottaki is reported to have told Chinese Foreign Minister Yang Jiechi that talks can succeed provided they are fair and that "Iran's right to peaceful use of nuclear energy is recognised".
Earlier, the US Secretary of State met the foreign ministers of Britain, China, France, Russia and Germany (the group known as P5+1) and they urged Iran to return to the negotiating table.
In a statement the group said: "Our objective continues to be a comprehensive long-term negotiated solution which restores international confidence in the exclusively peaceful nature of Iran's nuclear program."
British Foreign Secretary William Hague, heading for a meeting with his Iranian counterpart, said: "Now is the time for Iran to engage in real negotiation, in actual constructive dialogue."
Last October, Iran agreed in principle to resume negotiations in return for help in refuelling an Iranian research reactor used for medical purposes. But the talks never began.
In June, the UN passed a fourth round of sanctions against Iran, which included a ban on the sale of major arms systems to Iran, a ban on ballistic missile technology connected to nuclear weapons, and restrictions on travel and assets for Iranian organisations.