Deep divisions haunt Lebanese politics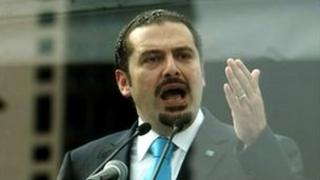 A heated late-night meeting of Lebanon's deeply-divided national unity government on Tuesday agreed to halt public feuding and return to dialogue to resolve bitter internal differences.
But it failed to settle any of the explosive issues which have raised political tensions high enough to provoke fears of sectarian violence and the collapse of the government.
Despite the agreement to calm things down, there was no immediate sign of an end to the war of words that has seen both sides accuse one another of trying to stage a coup and take over the Lebanese state.
There are numerous elements bubbling in the acrid cauldron which threatens to boil over.
But they are all interlinked and can be traced back to the 2005 assassination of the influential magnate and former Prime Minister, Rafik al-Hariri.
A special international tribunal was set up under UN auspices to investigate the killing, in which 22 others also died when a massive bomb explosion hit Mr Hariri's motorcade in Beirut.
There are persistent but unconfirmed reports that the tribunal is close to indicting some members of the militant Shia movement Hezbollah in connection with the crime, although it first focused its attention on alleged Syrian involvement.
That expectation underlies the tension that has been steadily growing in recent weeks.
'False witnesses'
Hezbollah has vehemently denied any role in the Hariri killing, dismissed the tribunal as an "Israeli instrument", and produced what it regards as evidence that Israel was involved in the assassination.
The tension has thrown up numerous derivative issues over which the two sides have exchanged increasingly inflammatory rhetoric and accusations.
The struggle pits the pro-western forces linked to Rafik al-Hariri's son - and Lebanon's current prime minister - Saad al-Hariri, against Hezbollah and its allies, backed by Syria and Iran.
All are represented in the national unity government set up under Qatari mediation in the wake of the 2008 street battles, but they are generally at loggerheads and unable to agree on much.
One of the hottest issues on which the struggle is now focused is that of the "false witnesses".
After Rafik al-Hariri's assassination, witnesses came forward who pointed accusing fingers at Syria and its local allies in Lebanon and its security services.
On that basis, four Lebanese security generals were arrested in August 2005 and spent nearly four years in prison without charges being brought. They were released in April 2009 due to lack of evidence.
They include the former head of general security, Brig Gen Jamil al-Sayyid, who is now at the heart of the controversy.
He is furious at what he regards as his wrongful imprisonment, and wants redress through prosecution of the "false witnesses", a demand vigorously taken up by Hezbollah and its allies, including the maverick Christian leader Michel Aoun.
'Fuel to the flames'
At an incendiary news conference earlier this month, Gen Sayyid accused Prime Minister Hariri of supporting and financing the "false witnesses" in order to inculpate Syria.
He warned that if he were not given his "right", he would take it with his own hands, and called on the Lebanese to revolt against Mr Hariri's government.
Gen Sayyid then disappeared to France for a week, during which time the prosecutor-general, Said Mirza, issued a summons for him to answer questions over his statements.
On his return to Beirut, Gen Sayyid was met at Beirut international airport and escorted home by a large group of armed Hezbollah supporters, an action which added further fuel to the flames.
Mr Hariri's supporters accused Hezbollah of invading the airport and flouting official state security and authority.
Some even claimed that Hezbollah - which everybody knows is the most powerful force in the land, including the Lebanese army - was trying to stage a coup.
Hezbollah loyalists retorted that the prime minister's followers had already carried out a quiet coup from within by taking factional control of state institutions.
They said the armed elements who went to the airport to collect Gen Sayyid were the bodyguards of various MPs who had also gone along to welcome him.
Gen Sayyid has demanded the dismissal of key figures seen as Hariri allies, including prosecutor Said Mirza, the head of the Internal Security Forces (ISF) Gen Ashraf Rifi, and Col Wissam al-Hassan, commander of the ISF's information section - a body which Hezbollah allies assert is illegal.
They are insisting that the "false witnesses" should be investigated and prosecuted as a priority, before any attention is paid to the international tribunal and any indictments it may produce.
'Huge climb-down'
There are behind-the-scenes efforts to head off any such indictments, with Saudi Arabia reportedly trying to pull strings in order to preserve the civil peace in Lebanon.
Earlier this month, Prime Minister Hariri staged a remarkable about-face by admitting, in an interview with the Saudi-owned newspaper al-Sharq al-Awsat, that the accusations which he and others had voiced against Syria were "political" and had been withdrawn.
He also admitted the existence of "false witnesses" who, he said, had misled the tribunal and disturbed Lebanon's relations with Syria.
Given Mr Hariri's earlier public accusations that the Syrians were behind his father's death, this was a huge climb-down.
It reflects a radical shift in the regional balance of power, deeply felt here since the 2005 assassination, when the American occupation of Iraq was at its peak and Syria - fearing it might be next on the list - yielded to pressures to pull its troops out of Lebanon.
Another sign of the shifting balance and restored Syrian influence is that one of Mr Hariri's staunchest erstwhile allies, the Druze leader Walid Jumblatt, who also publicly accused the Syrians of killing his own father Kamal in 1977, has mended fences with both Hezbollah and Syria, and distanced himself from Mr Hariri's March 14 coalition.
Mr Jumblatt, who has been mediating between the two factions, has suggested that there should be a consensus decision to drop the international tribunal if it is likely to produce an inflammatory situation on the ground in Lebanon.
Hezbollah and its allies have already tried to block Lebanon's share of funding for the tribunal by holding it up in the finance and budget committee of parliament.
But at the cabinet meeting, Mr Hariri - just back from a long visit to Saudi Arabia - insisted that the tribunal should continue, and refused to equate justice for the arrested generals with justice for the murdered "martyrs", first and foremost his own father.
At the same time, he insisted that the "opening" to Syria was a strategic relationship which must also be preserved, and he has urged his followers not to criticise Damascus despite its alliance with Hezbollah.
An entente between Syria and Saudi Arabia, consolidated in a trilateral summit meeting in Beirut in July, is widely seen as a major factor preventing a slide towards sectarian civil strife.
During the current war of words between Mr Hariri's supporters and Hezbollah and its allies, each has accused the other of recklessly courting another collision between Sunnis (who largely support Mr Hariri) and Hezbollah's Shia community.
Sectarian tensions exploded briefly into clashes in one part of Beirut in August between Hezbollah and a radical Sunni group known as al-Ahbash, although both factions are linked to Syria and the political implications of the disturbances, in which three died, were not clear.
The Saudi-Syrian entente is still believed to be in place.
The Lebanese government agreement to cool down the rhetoric may also help to keep the lid on things for the moment.
But the issues underlying the tension, and the deep divisions they signal, have not gone away.
In the days and weeks to come, issues such as the fate of the summons against Gen Jamil al-Sayyid, the prosecution or otherwise of the "false witnesses", and possible indictments by the international tribunal, are certain to strain the situation again.