Quartet urges Israel to extend settlement freeze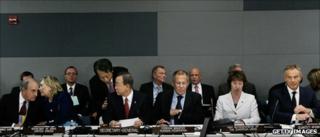 The Quartet of Middle East peace mediators has urged Israel to extend its partial freeze on the construction of Jewish settlements in the West Bank.
It called the freeze, due to expire at the end of the month, commendable and said it had had a positive impact.
The Quartet also encouraged both sides to continue their newly resumed direct talks "in a constructive manner".
The Palestinian Authority says it will pull out if the freeze is not extended, but Israel has so far refused.
Meetings in the Egyptian resort of Sharm el-Sheikh and Jerusalem last week appeared to fail to resolve the matter, although the US special envoy, George Mitchell, said "progress" had been made.
'Not an issue'
Senior diplomats from the Quartet - the United States, European Union, United Nations and Russia - met on Tuesday at the UN's headquarters in New York to discuss a way forward in the negotiations.
"The Quartet noted that the commendable Israeli settlement moratorium instituted last November has had a positive impact and urged its continuation," a statement issued afterwards said.
"The Quartet encouraged the parties to work together to find a way to ensure that negotiations continue in a constructive manner."
Earlier, Israeli Deputy Foreign Minister Danny Ayalon indicated that his government disagreed with the view that ending the settlement construction freeze threatened to bring a premature halt to the talks.
"Settlements have never been an issue, because once we agree on borders everything will be obvious. So let's concentrate on the real issues and not just put the obstacle in the settlements," he told reporters at the UN.
Israeli Prime Minister Benjamin Netanyahu has said he will not extend the freeze, but indicated he could limit construction work to major settlement blocs.
Before the Quartet meeting, a spokesman for Palestinian Authority President Mahmoud Abbas said the next 10 days would be "decisive and determine the fate of the direct negotiations".
"There is a very large international effort made to overcome the obstacles in the way of direct negotiations. In particular, the obstacle of the settlements," Nabil Abu Rudeina told the AFP news agency.
The Quartet representative, Tony Blair, remained optimistic that a compromise could be reached.
"The good news in a sense, and the thing that should encourage us to find a way round this impasse, is that there's no doubt at all that both parties are absolutely serious about finding an agreement," he said.
Nearly half a million Jews live in more than 100 settlements built since Israel's 1967 occupation of the West Bank and East Jerusalem. They are held to be illegal under international law, although Israel disputes this.
Israeli President Shimon Peres held private talks late on Monday with Mr Abbas in New York. They spoke briefly to reporters afterwards, but did not discuss any particular developments, including settlements.