Thousands flee fighting in Yemen's Shabwa province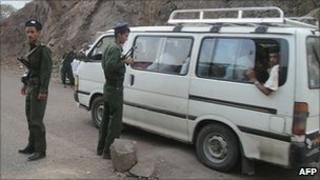 More than 8,000 civilians have fled their homes in southern Yemen, as government forces launched an assault on al-Qaeda militants, officials said.
Yemeni forces said 80 to 100 al-Qaeda fighters were thought to be hiding in the town of Huta in Shabwa province.
Three militants and two soldiers have died in the clashes, which have been raging since Sunday, officials said.
The fighting comes as President Barack Obama's top counter-terrorism adviser John Brennan was visiting Yemen.
Mr Brennan delivered a letter from Mr Obama to President Ali Abdullah Saleh expressing US support for a "unified, stable, democratic and prosperous Yemen," a White House statement said.
The US has stepped up its training, intelligence and military aid to Yemen following a failed plot to blow up a US plane on Christmas Day in 2009, for which the Yemeni wing of al-Qaeda claimed responsibility.
Desperate families
A local government official said some 8,000 people had fled the town of Huta following the attacks, but the Red Cross put the figure as high as 12,000.
"The authorities have been telling people to leave the town since Saturday," father-of-four Ali Abu Dahhas told AFP.
"As I left Huta, I saw hundreds of families sleeping out in the open."
Shabwa is the home province and suspected hiding place of the radical Muslim cleric, Anwar al-Awlaki, a US-Yemeni citizen who is wanted by the US authorities for his links to al-Qaeda.
Al-Qaeda in the Arabian Peninsula (AQAP) has established strongholds in the country's largely autonomous tribal regions, analysts say.
The group has been responsible for a number of deadly attacks in Yemen, including a raid on the country's domestic intelligence agency in Aden in June, in which 13 people died.