Israeli forces kill West Bank Hamas commander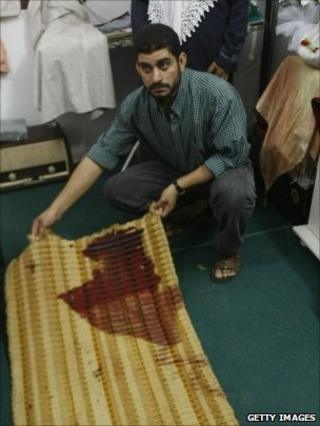 Israeli forces have shot dead a local Hamas military commander in the north of the occupied West Bank.
Iyad Shilbaya, a commander of the Ezzedine al-Qassam Brigades, was killed during a raid to arrest him, the Israeli military said.
Hamas's military wing said it was responsible for the killing at the end of August of four Jewish settlers in the West Bank.
It is not clear whether Shilbaya was a suspect in these killings.
Since the killing of the four Jewish settlers, Palestinian and Israeli security forces have arrested scores of Hamas supporters across the West Bank.
Twelve other Palestinians were arrested in the overnight operation.
Palestinian Prime Minister Salam Fayyad criticised the killing of Shilbaya as a "dangerous escalation".
Surge in violence
Recent weeks have seen an increase in rocket fire from Gaza into Israel and a series of Israeli air raids on the territory.
Hamas is opposed to the US-sponsored talks, launched in Washington on 2 September, between Israel and the Palestinian Authority, led by Mahmoud Abbas.
Differing accounts of the shooting at the Nur Shams refugee camp in Tulkarm are emerging.
According to Palestinian reports, the brother of the Hamas militant was forced to lead the Israeli soldiers to the house Shilbaya was staying in. The brother is reported to have said that the militant was shot three times while asleep and his body taken away by the soldiers.
An Israeli military spokesperson said Shilbaya was shot "during a routine arrest raid". Soldiers opened fire after Shilbaya came towards them despite being told to halt, the military official said.
Israel has occupied the West Bank since 1967, settling close to 500,000 Jews in more than 100 settlements. There are about 2.5 million Palestinians living in the West Bank.