Israel bombs Gaza tunnels as leaders talk peace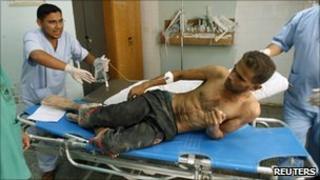 Israeli aircraft have bombed tunnels used by smugglers under Gaza's border with Egypt, killing one Palestinian.
The raids came shortly after militants in Gaza fired a rocket and eight mortar rounds into southern Israel - the highest daily total in over a year.
The rocket struck near the Israeli city of Ashkelon, but caused no casualties or major damage, the military said.
There has been an upturn in violence since the resumption of peace talks earlier this month.
It follows months of relative calm since the Israeli offensive, known as Operation Cast Lead, which ended in January 2009.
It was aimed at halting attacks on Israel from Gaza, but cost the lives of more than 1,400 Palestinians and 13 Israelis, including three civilians.
'Blind eye'
The Popular Resistance Committees, a small militant group, said it had carried out the attacks "in order to reject the negotiations".
Hours later, the Israeli air force said it struck smuggling tunnels along the Gaza-Egypt border, killing a 23-year-old man and wounding two others.
Israeli security officials told local media they expected further violence in the coming days.
They said Hamas was not believed to have launched the attacks, but accused the group of turning a blind eye to the activities of other factions in the territory that are opposed to the peace talks.
Earlier on Wednesday, Israeli Environment Minister Gilad Erdan warned that continued attacks could lead to a new Gaza offensive.
"We may be obliged to consider a second operation like Cast Lead," Mr Erdan was quoted as saying by the AFP news agency.
Israeli Prime Minister Benjamin Netanyahu and Palestinian Authority President Mahmoud Abbas are continuing direct talks in Jerusalem, after discussing the core issues behind the conflict in Egypt on Tuesday.