Roadside bomb kills nine Iraqi soldiers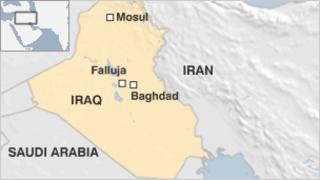 Nine Iraqi soldiers were killed and six were injured by a roadside bomb on the outskirts of Mosul, police say.
The soldiers were off-duty and on their way home in a minibus when the blast happened, officials said.
Earlier, at least seven civilians were killed during a security operation by US and Iraqi army forces near Falluja, west of Baghdad.
One of those killed had been a colonel in the Iraqi army during the rule of Saddam Hussein.
The purpose of the raid was not immediately clear and the US military has declined to give details.
The US military ended its major combat role in August, though 50,000 soldiers remain in the country ready to support the Iraqi army.
Violence has spiked in Iraq in recent months, with most of the attacks targeting Iraqi soldiers and police.