Israeli army admits three killed Gazans were civilians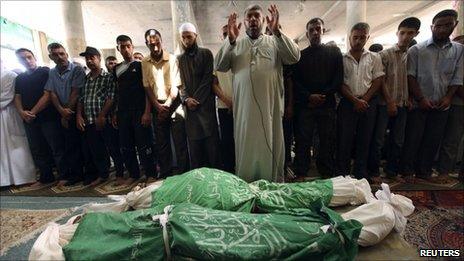 The Israeli army has admitted that three Palestinian men it killed in Gaza on Sunday were civilians, and not terrorists, as previously claimed.
Brig Gen Ayal Eisenberg said one of the men had picked up a grenade launcher abandoned in a field, and Israeli troops mistakenly opened fire, thinking they were about to come under attack.
Among those killed were a 91-year-old farm worker and his grandson, aged 17.
Rocket fire from Gaza has increased in the past week. No casualties resulted.
Hours after the general's statement, at least two Palestinians were wounded in Israeli shelling east of Gaza City, a medic and another witness said.
The two were wounded when Israel fired four tank shells near the village of Juhr al-Dik, close to the heavily-guarded border, the witness said.
The Israeli army said it had returned fire after militants approached the border and fired a rocket propelled grenade at a patrol.
Sunday's killings took place near the town of Beit Hanoun in Gaza after Israeli tanks fired across the border at the three victims, witnesses had said.
Two of those killed were named as Ibrahim Abu Saeed and his grandson Husam. The third victim, a 20-year-old man, has not been named.
At the time, Israeli army radio described the men as "terrorists", but Gen Ayal Eisenberg now says the soldiers made a mistake.
"The civilians killed by our soldiers' fire... were not involved in any terrorist operation," he told army radio.
"Our soldiers identified a civilian who was picking up an RPG [rocket propelled grenade] and, thinking he was going to fire at them, opened fire" in his direction, he added.
The incident occurred shortly after militants in Gaza fired several rockets and mortar rounds across the border into southern Israel. The attacks did not result in any injuries or damage.
Separately, a report published by an Israeli human rights group found that Israeli soldiers who kill Palestinians were rarely punished.
The B'Tselem report released on Tuesday said that the military investigated only 22 of 148 cases submitted by the group.
No criminal charges were brought in any of the cases, which involved the killing of 288 Palestinian civilians between 2006 and 2009, it said.
"This policy permits soldiers and officers to act in violation of the law, encourages a trigger-happy attitude and shows a flagrant disregard for human life," the report said.
One Thai farm worker in Israel has been killed by rocket fire from Gaza in the past 18 months, while scores of Palestinians in Gaza have been killed over the same period.
Related Internet Links
The BBC is not responsible for the content of external sites.