Eased Israeli blockade boosts Gaza growth, says IMF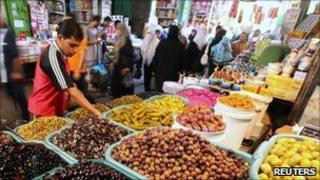 The easing of Israel's blockade helped Gaza's economy grow by 16% in the first half of the year, an official from the International Monetary Fund (IMF) said.
But the growth was from a "very low base" and was not likely to continue without the further lifting of Israeli restrictions, Oussama Kanaan warned.
Israel began allowing consumer goods in to Gaza after its May raid on a Turkish aid ship sparked international outrage.
But it still restricts the import of capital goods and blocks all exports.
Israel and neighbouring Egypt tightened the blockade when an Israeli soldier was captured in June 2006 and tightened it further when the militant Hamas movement took control of Gaza a year later.
Israel says the restrictions are necessary to pressure militants to stop firing rockets from the territory.
Crippled economy
Revealing the IMF findings, Mr Kanaan noted that Gaza's growth came after years of sanctions that have all but devastated the economy.
"It's starting from a very low base after a very tight blockade," said Mr Kanaan, the IMF representative in the West Bank and Gaza.
Unemployment in Gaza remains at 37% - one of the highest rates in the world - and the United Nations has repeatedly warned of a humanitarian crisis for Gaza's 1.5 million residents.
Last month, the UN said tens of thousands of Gazans were losing their livelihoods because the Israeli military was increasingly restricting access to farmland in the Gaza Strip and fishing zones along its shore.
Israel also limits the amount of construction and raw materials allowed into Gaza, leading to the closure of hundreds of businesses and factories - some of which were destroyed during Israel's 22-day military offensive, which ended in January 2009.
According to the United Nations, the Israeli military campaign left more than 50,000 homes, 800 industrial properties and 200 schools damaged or destroyed.
Liquidity crunch
In the West Bank, meanwhile, Mr Kanaan warned that the Palestinian Authority (PA) of President Mahmoud Abbas was facing "serious liquidity problems".
The PA depends on international aid to fill a gap in finances projected at more than $300m (£200m) this year, he said.
The IMF report, which will be presented at a donors conference in New York later this month, says that continued economic growth depends on Israel allowing Palestinian development on the 60% of West Bank land that is still under Israeli military control.
The findings come as Israeli and Palestinian leaders hold a second round of US-backed peace talks in Egypt after formally re-launching direct peace talks earlier this month.