Iran to release one of three captured US hikers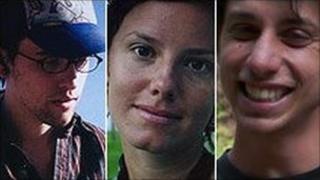 Iran is to free on Saturday one of three detained American hikers accused of espionage, officials in Tehran say.
An Iranian official named her as Sarah Shourd, 31. No reason has been given for her release.
She was seized with Shane Bauer and Josh Fattal, both 27, last July. Tehran accuses them of entering illegally and having links to US intelligence.
The hikers' families say they were in northern Iraq's Kurdistan region and unintentionally crossed the border.
On Thursday, reporters in Tehran received the text message from the Iranian culture ministry, which - according to the Associated Press - said: "The release of one of the detained Americans will be on Saturday, 0900am at the Estaghlal hotel."
This is the same hotel in Tehran where the parents of the Americans were allowed to briefly meet them in May.
The mothers of the three hikers released a joint statement saying they had not been contacted by the Iranian government.
"We have seen the news reports and are urgently seeking further information," a joint statement from Cindy Hickey, Nora Shourd and Laura Fattal said.
"We hope and pray that the reports are true and that this signals the end of all three of our children's long and difficult detention."
The Americans have been held in Tehran's Evin prison.
They have not been publicly charged.
In December, Iranian Foreign Minister Manouchehr Mottaki said they would stand trial, but he did not specify on what charges.
US Secretary of State Hillary Clinton has called on Tehran to free the hikers, and said that any charges would be unfounded.