Second Iraq TV presenter shot, Baghdad bombs kill four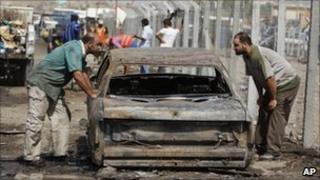 Gunmen in Iraq have killed an Iraqi TV journalist - the second in as many days - while four other people were killed in two attacks in the capital Baghdad.
Safah Abdul Hameed was shot dead in front of his home in the northern city of Mosul as he left for work at the al-Mosuliyah satellite television station.
A day earlier, prominent al-Iraqiya TV presenter Riad al-Saray was gunned down outside his home in Baghdad.
Some 230 media workers have been killed in Iraq since the 2003 US-led invasion.
Of those, 172 were journalists. The rest were translators, drivers and assistants, according to Reporters Without Borders.
A report released by the Paris-based media watchdog on Tuesday said that the Iraq war has overtaken Vietnam as the most lethal for journalists since World War II.
Mr Hameed, a father of six, was shot from a speeding car, police said. He had worked at al-Mosuliya television channel for a year, his colleagues said.
Motorcycle ban
Also on Wednesday, at least four people were killed in two separate bombings in Baghdad, officials said.
In the first attack, at least three people were killed and more than 20 wounded when a parked car bomb exploded near a bus station in the southern Bayaa neighbourhood.
In eastern Baghdad, two bombs went off near a bus station, killing at least one person and wounding 12 others.
The authorities in Baghdad have imposed a ban on motorcycles - often used in attacks in the city - ahead of the three-day Muslim holiday of Eid al-Fitr.
The violence comes a day after two American soldiers were gunned down by an Iraqi comrade.
Violence has spiked in Iraq in recent months, with July and August recording the highest monthly death tolls since mid-2008.