Hamas militia's secret West Bank stronghold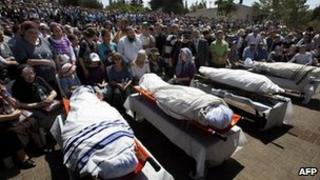 Amid the dust at the side of the road at the Bani Nayim junction in the southern West Bank there is a small makeshift shrine - a pile of rocks covered with Israeli flags.
It was here, just over a week ago, that four Israeli settlers were shot dead - their car riddled with bullets - in a drive-by attack by Hamas militants.
That attack and another the following day at Ramallah, in which two Israeli settlers were injured, were together a message from Hamas: "You can't ignore us."
Secret army
Both attacks were carried out by the al-Qassam Brigades, the Hamas military wing.
"They are very secret. Nobody knows how they work, how they communicate. Nobody knows who they are," says Wasfi Kabaha, a Hamas politician in the West Bank. "They could be your friends and you wouldn't know."
"Even you?" I ask. "As a senior Hamas figure, don't you know who they are?"
"Of course not," he laughs. "If I knew it wouldn't be a secret, would it?"
Mr Kabaha says the military wing operates quite separately from the political wing of Hamas, taking most of its orders from Gaza or from Hamas leaders based in Syria.
The al-Qassam Brigades has its base in Gaza and some were surprised it was able to strike on the West Bank, despite the efforts of Israeli and Palestinian security forces.
In recent years, hundreds of Hamas supporters have been arrested and detained by Fatah police.
But Mr Kabaha says Hamas remains strong.
"Hamas supporters are everywhere, in every town, in every village," says the politician.
He has spent eight of the last 10 years in Israeli or Palestinian jails. Sitting in his home, surrounded by books of Islamic teachings, he told me he was reluctant to travel for fear of being arrested, but he said the crackdown by the Palestinian security services has only driven the al-Qassam Brigades underground.
The timing of their two latest attacks was crucial.
It happened just as US President Barack Obama was about to relaunch Middle East peace talks in Washington, with Israeli Prime Minister Benjamin Netanyahu and Palestinian leader Mahmoud Abbas meeting face-to-face.
But the reality is that Mr Abbas does not represent all Palestinians.
He is about to start negotiating over land he does not even control - the Gaza Strip, where more than 40% of Palestinians live.
Hamas has been in power there for more than three years, after winning elections in 2006 and then forcing its secular rivals Fatah, the party of Mr Abbas, out of the territory.
Lack of unity
Palestinians remain politically and geographically divided.
Hamas controls Gaza, Fatah controls the West Bank and only Fatah is being represented at the talks in Washington.
Hamas, Gaza and the people living there were the elephants in the room, or rather not in the room.
The United States, the European Union and Israel do not recognise the Islamist movement's authority.
Hamas says the peace talks are a sham.
But the Palestinian Authority insists it has put a tight squeeze on Hamas operations in the West Bank.
"Hamas don't have an army on the West Bank, there are small cells and individuals from the al-Qassam, but not many," says Gen Adnan Daniri from the Palestinian security services.
But when it comes to being more specific about numbers, Gen Daniri admits he does not know. "If I knew how many and who they were, I would arrest them," he says.
Ronan Bergman, an Israeli expert on intelligence and author of The Secret War with Iran, says Hamas has undoubtedly had to become more secret in the way in operates in the West Bank.
He believes the efforts of the Palestinian Authority, funded by US money, have made it much more difficult for their militants to operate. However, if the peace talks progress, he expects Hamas to try to disrupt them.
"If all the gloomy predictions of the experts are wrong and the peace talks move forward, I would expect further Hamas operations on the West Bank against settlers and even against the Palestinian Authority," says Mr Bergman.
It illustrates just how great the divide is between Hamas and its rivals Fatah. Opinion polls show that the single most important issue now for Palestinians is achieving political unity. But the politicians do not seem to be listening.
It is hard to see how there can be a complete and lasting peace between Israelis and Palestinians until there is peace and agreement between Fatah and Hamas.