'Torture' of British Shia activist in Bahrain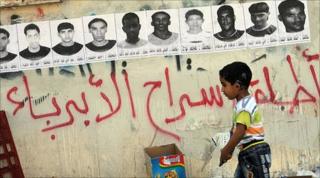 A British citizen is among dozens of Shia activists who have been rounded up by the Bahraini authorities and tortured for their alleged role in campaigning against the ruling family of the Gulf Arab state, his lawyers tell the BBC.
Jaffar al-Hasabi, a 38-year-old London mini-cab driver, has been charged under the country's harsh anti-terrorism laws, along with 22 others, with "forming an illegal organisation" plotting to "overthrow the government and dissolve the constitution" and fundraising for and planning to carry out terrorist acts.
Mr Hasabi's lawyer, Mohamed al-Tajer, was present when he was charged - the only time he has been allowed to see his client.
He says Jaffar al-Hasabi was beaten all over - his lower body was completely black from the beatings; he was hung from his hands and feet; beaten on his face and ears and forced to stand for 48 hours.
Mr Hasabi fled Bahrain in 1995, saying he had been arrested and tortured by Bahraini officials for distributing anti-government leaflets at his local mosque.
The charge that Mr Hasabi - a computer technician turned London cab driver - was part of a terror cell is one his friends find utterly unbelievable.
"I know him inside out and he is not a violent man," says Saeed Shehabi, a long-time friend, who also lives in the UK and is himself being tried in absentia in Bahrain.
Shia unrest
Mr Hasabi had returned to his native Bahrain on 24 July with his wife and five children for a holiday.
Mr Hasabi continued to be a vocal critic of the Bahraini royal family in London but, says Mr Shehabi, he was always very careful to avoid any political activism when he was visiting Bahrain.
He - along with more than 200 people - have been arrested in a series of raids that began on 13 August.
The arrests represent a significant shift for the Bahraini government, which has been faced with growing resentment from the majority Shia population, who allege discrimination by the ruling Sunni royal family.
They point to high unemployment, poor housing and the fact that they are denied jobs in several government departments, as well as senior positions in the oil and banking sectors, as evidence of persistent discrimination.
Insiders say that the king and his closest advisers are "fed up" with Shia youth rioting in the streets and blocking roads with burning tyres.
Demonstrations and sporadic rioting have continued for several years in Shia villages and there is growing concern that the protests will spread to the capital Manama.
Now, a decision has been taken to go after senior religious, political and human rights activists in the Shia community who the government believes are fomenting violence.
Secret jails
"Bahrain has never seen anything like this," says veteran civil rights campaigner Nabeel Rajab of the Bahrain Center for Human Rights, an independent organisation that the government has declared illegal.
Mr Rajab says those detained had been denied access to lawyers until the time they were charged, their families are not allowed to see them, and they are being held in secret locations.
"What the government has done is illegal, it is against the constitution," he says.
Mr Rajab alleges that many of the detainees, including those charged so far, have been subjected to torture, a claim the Bahraini authorities deny.
As the government continues its efforts to suppress what it considers a "terrorist threat", Bahraini Shias say they are living in fear.
"Any criticism of the government's actions is defined as promoting terrorism - this phone call is promoting terrorism," said a Shia businessman in Manama who was contacted by telephone.
"The list of who they will arrest next is an open one. This is a frightening situation," he added, asking that his name not be used.
Mr Hasabi's wife and children remain in Bahrain.
"We need to come back to the UK so that my children can continue their schooling but I find it extremely difficult to go back without my husband."
She has not seen him since he was arrested and has asked British authorities to intervene on her husband's behalf.