Gunmen kill prominent Iraqi TV presenter Riad al-Saray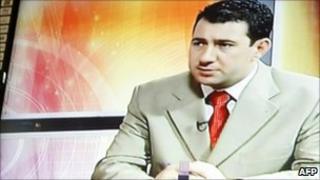 The prominent Iraqi television presenter Riad al-Saray has been shot dead by unknown gunmen in Baghdad.
Mr Saray, who presented religious and political programmes on al-Iraqiya TV, was killed as he was leaving his home on Tuesday, the campaign group Reporters without Borders (RSF) said.
He was known for his attempts to narrow sectarian differences in Iraq.
Mr Saray is the 15th al-Iraqiya journalist to be killed since the end of Saddam Hussein's regime, RSF said.
The 35-year-old lawyer joined the state broadcaster in 2005.
He was also on the local council of the Shia neighbourhood of Shula in north-west Baghdad.
RSF called the attack a "targeted murder" and called for an investigation that would lead to the arrest and punishment of Mr Saray's killers.
The attack coincided with the launch of an RSF report about the risks for journalists working in Iraq.
The report says 230 journalists and media staff have been killed in Iraq since the US-led invasion in 2003.