Mohammed ElBaradei urges Egypt election boycott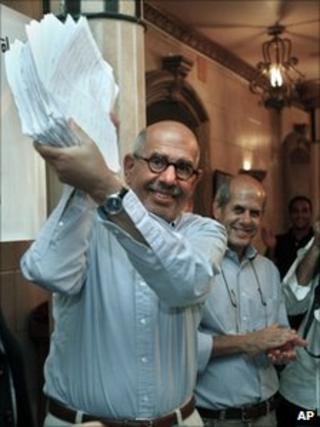 A leading opposition figure in Egypt has called for a boycott of November's parliamentary election, saying it is certain to be rigged by the government.
Mohammed ElBaradei said participating would go against "the national will" to transform Egypt into a democracy.
The ex-head of the International Atomic Energy Agency said the "next year and months will be critical and will witness change in the rule of Egypt".
Mr ElBaradei has not yet said whether he will run for president in 2011.
Speculation over who will succeed Hosni Mubarak - Egypt's president of nearly 30 years - has gained pace since he had surgery earlier this year.
The 82-year-old has himself not said if he will seek re-election, but many Egyptians believe he will try to install his son, Gamal, in the role if he does not.
'Decaying temple'
After he returned to Egypt in February, Mr ElBaradei's National Coalition for Change launched a petition calling for constitutional changes and guarantees of free elections.
The petition lists seven demands including allowing independents to run for president, the judicial supervision of elections, and the lifting of the controversial emergency laws that have been in place since 1981.
"We have gathered nearly a million signatures in six months and we can reach up to two to three million more by the end of this year," Mr ElBaradei told about 200 activists in Cairo on Monday.
Mr ElBaradei said the ruling National Democratic Party (NDP) had failed to govern, brought only rising poverty and illiteracy, and disregarded human rights.
"When I look at the temple they built, I see a decaying temple, nearly collapsing. It will fall sooner rather than later," he added. "I will never enter this temple. What we call for is to bring down this temple in a peaceful civilised manner."
"Egyptians are known to be patient people. But patience has limits and civil disobedience is our last resort if demands for reform are not heeded."
And until the political system opened up, it would be wrong to give it legitimacy by participating in elections, Mr ElBaradei argued.
"Anyone who participates in the vote either as a candidate or a voter goes against the national will," he added.
Mr ElBaradei later told reporters: "If the whole population boycotts the elections totally, it will be in my view the end of the regime."
Correspondents say opposition groups in Egypt are divided over whether to boycott the polls. The outlawed Islamist movement, the Muslim Brotherhood, supports Mr ElBaradei but is still likely to participate.