Iran 'hampers work of IAEA investigators'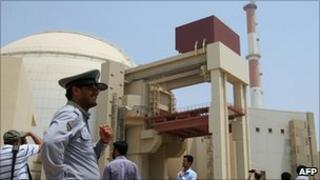 The UN nuclear watchdog says Iran has hindered its investigations by repeatedly objecting to the agency's choice of inspectors.
In a confidential report seen by the BBC, the International Atomic Energy Agency says it cannot confirm that Iran's nuclear programme is peaceful.
The IAEA says Iran has continued to produce low-enriched uranium, despite fresh UN Security Council sanctions.
The US and its allies accuse Iran of trying to develop nuclear weapons.
Tehran insists its nuclear programme is solely for energy production.
White House spokesman Tommy Vietor said the IAEA's report was "troubling to all who care about non-proliferation and global security".
However, Iran's envoy to the IAEA, Ali Asghar Soltanieh, said the report had "damaged the agency's technical reputation", Iran's Mehr news agency reported.
He said all Iran's nuclear activities were under the IAEA's "complete supervision".
The IAEA's report followed Iran's recent decision to bar two experienced inspectors after they reported what they said were undeclared nuclear experiments.
Tehran said the two had made inaccurate reports, but the IAEA says it stands by their findings.
The agency's report said Iran's objections "hampers the inspection process and thereby detracts from the agency's capability to implement effective and efficient safeguards in Iran".
The IAEA said Iran had produced around 2.8 tonnes of low-enriched uranium, compared to 2.4 tonnes in May.