Stoning furore gives Iran foreign policy problems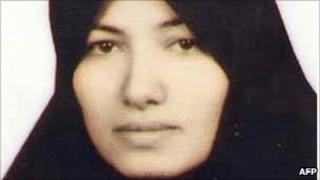 The case of Sakineh Mohammadi Ashtiani, the Iranian woman under threat of stoning to death, seems to be causing special problems for the Iranian government, highlighting some big dilemmas in the foreign policy of the Islamic Republic.
The international outcry over the case simply refuses to go away.
Last week, The Times newspaper in London published what it said was a photo of her, without the headscarf which is obligatory in Iran.
Days later it retracted the photo, explaining that it was a mix-up, and the photo was really of an Iranian exile living in Sweden.
Nevertheless, according to one of her lawyers, Ms Ashtiani was sentenced to 99 lashes for "indecency" as a result, and the sentence has already been carried out - though another lawyer denies that.
At the same time, the Vatican has said it is considering making an appeal on her behalf to the Iranian government.
The obvious response to this international furore might be for Iran to exercise its usual defiance.
The Iranian government prides itself on its independence, and would always argue that the Islamic Republic is answerable to a higher power.
That seemed to be evidenced by a "confession" from Ms Ashtiani broadcast on Iranian television three weeks ago, in which she appeared to admit complicity in the murder of her husband, a charge her lawyers say has either already been dismissed or was never even brought to court.
The news of a new sentence of 99 lashes also suggests more defiance from Iran - an attempt to warn foreign "meddlers" from further involvement in the case.
Iranian self-image
Ms Ashtiani is still, by all accounts, in danger of execution, though most likely by hanging rather than stoning.
But carrying out that sentence would cause the Iranian government difficulties, both in its image of itself, and in its relations with the outside world.
President Mahmoud Ahmadinejad often boasts of the superiority of Iranian civilization and Iranian values, by contrast with the corruption of the West.
His response to criticisms of his re-election in 2009 was to declare Iran the most democratic country in the world.
In a speech in Qatar on Monday he declared: "Today, the only nation that has the ability to establish a just order in the world is the Iranian nation."
But Mr Ahmadinejad has had much less to say about the issue of stoning.
In an interview with Iran's Press TV on 15 August he said only that the case "would be resolved", hardly a ringing defence of the practice of stoning.
Not only is the case causing problems for Iran's proud self-image, it has also caused real diplomatic difficulties. Iran aspires to be the leader of an alternative coalition of nations, an anti-American alliance.
Interests at stake
One of Mr Ahmadinejad's most prized recent diplomatic successes was in persuading Brazil and Turkey to vote against the recent round of UN sanctions on Iran.
But President Inacio Lula da Silva of Brazil has come under pressure for working with a country which still endorses stoning.
Hence his recent offer of asylum to Ms Ashtiani. And other leaders may think twice about improving relations with Iran, if her case is not resolved.
The journalist Maziar Bahari, who was held in prison in Iran for 118 days following Mr Ahmadinejad's re-election, described the moment he knew he was about to be freed.
It was when one of his prison guards told him that the US Secretary of State, Hillary Clinton, had taken up his case.
He had become "more of a liability than an asset", he was told by one Iranian official.
Campaigners for Ms Ashtiani must be hoping that the same logic will apply to her case.
The Iranian government is still run by intelligent people who have a strong sense of Iran's best interests in the world.
But Mr Ahmadinejad's government is also unpredictable and weakened, following the circumstances of his re-election. This case could still go either way.