Lebanon PM Hariri withdraws accusation against Syria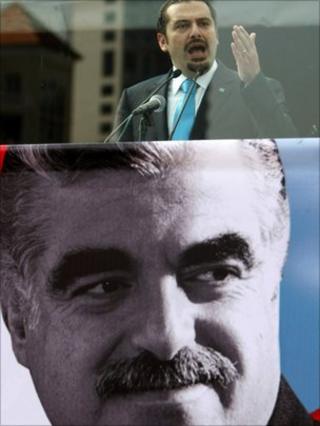 Lebanese Prime Minister Saad Hariri has said he was wrong to accuse Syria of assassinating his father - former Lebanese PM Rafik Hariri.
He told the Saudi-owned Asharq al-Awsat newspaper that the charge had been politically motivated.
Mr Hariri added that Lebanon and Syria had deep ties and that an international inquiry into his father's killing had been misled by false testimony.
Rafik Hariri died in a massive truck bomb attack in Beirut in 2005.
In the interview with Asharq al-Awsat, Mr Hariri said: "At a certain stage we made mistakes and accused Syria of assassinating the martyred premier. This was a political accusation, and this political accusation has finished."
Correspondents say the statement represents a major switch for Saad Hariri, who for years blamed Damascus for his father's death. Syria has always denied involvement.
A UN-backed tribunal investigating the killing initially implicated Damascus, but has yet to indict any suspects.
Syria dominated Lebanon for nearly 30 years and kept tens of thousands of troops on its soil.
Rafik Hariri's death sparked anti-Syrian protests that led to Syria's withdrawal.