Egypt's Mohamed ElBaradei alleges 'smear campaign'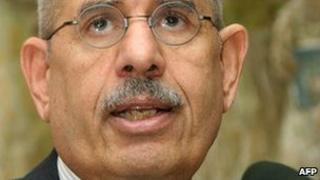 Former UN chief nuclear chief Mohamed ElBaradei has accused Egypt's government of being behind a smear campaign targeting his family.
A government-run newspaper had said the ElBaradeis were accused of being atheists and having a daughter married to a non-Muslim.
Mr ElBaradei said this was how "the regime" responded to reformers.
He has been seen as a potential presidential candidate in Egypt, a Muslim-majority state.
Speculation is high about who may replace Hosni Mubarak, the country's 82-year-old president, who is known to be unwell but has no obvious successor after nearly 30 years in office.
'Grave mistake'
Mr ElBaradei, a Nobel Peace Prize winner as well as former head of the UN's International Atomic Energy Agency, was quoted in independent newspaper Al-Dustour as saying the government was "waging a campaign of sheer lies" against himself and his family.
He also condemned a "smear campaign" allegedly being waged on the social networking site Facebook.
"This just shows how desperate the forces against change have become by resorting to a smear campaign based on lies and fabrication," he told the Associated Press news agency through a spokeswoman.
A spokesman for President Mubarak's National Democratic Party, Ali Eddin Helal, said it had had no connection to the alleged Facebook campaign, which he called an attempt at "character assassination".
"I think this is a very grave mistake, violating the privacy of others," the party spokesman said.