Egypt bans reports of mystery poster campaign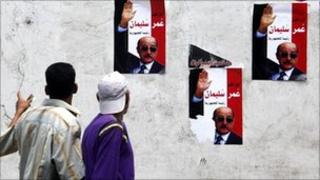 Newspapers in Egypt have been banned from reporting on an unprecedented poster campaign.
The campaign has been promoting the chief of intelligence, Gen Omar Suleiman, as a possible future president of Egypt.
The BBC has learned that thousands of copies of two of the most popular independent dailies, Al Masry Al Youm and Al Dustoor, have been destroyed.
No publication carried the news in their Friday morning editions.
Independent newspapers in Egypt are always keen to publish details of the latest twist in the hottest political story in the country: who will succeed President Hosni Mubarak.
He is 82, has ruled for nearly 30 years and is known to be unwell but has no obvious successor.
Yet on Friday, no newspaper reported the news of a mysterious poster campaign that has suddenly hit the streets of Cairo.
The posters showed Gen Suleiman in dark sunglasses with a raised arm as if waving to the crowd, and carried the slogan: "The real alternative."
Harassment
Those behind the posters have not disclosed their identity but they issued a statement.
The statement said Gen Suleiman was a widely respected figure within the ruling establishment as well as the opposition.
It said the general was the only man who can thwart plans to promote Mr Mubarak's son to succeed his father.
The activists, like other members of the opposition, are clearly unhappy about stepped-up efforts to promote the young Mubarak for president.
Those behind Gamal Mubarak have been allowed to campaign freely, while others who support the former international nuclear watchdog, Mohamed ElBaradei, have been harassed by the police.
But unlike all other probable presidential candidates, the 75-year-old chief of intelligence is not known to have political ambitions, even though he has long been considered a very likely successor to Mr Mubarak.
The authorities' decision to gag the newspapers seems to derive from a fear that news of a campaign in favour of the general could refuel speculation that there is a power struggle within various wings of the ruling elite.