Egypt hit by power cuts amid Ramadan heat wave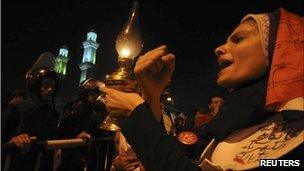 Cities across Egypt have been hit by daily blackouts during the past two weeks, sparking protests and calls for the electricity minister to be sacked.
The power cuts - the worst in decades - come amid sweltering temperatures during the fasting month of Ramadan.
The government has blamed the problem on higher consumption and says it is taking steps to restore the service.
There have been protests in the capital, Cairo, and demonstrations outside government offices.
Last week, a crowd of protesters used burning tyres to temporarily block off part of a major road to the south of Cairo.
The power failures have led to many families breaking their Ramadan fast in near-darkness, using candles and gas lamps, says the BBC's Yolande Knell in Cairo.
The blackouts, often before and during iftar - the sunset meal which breaks the daily fast - sometimes last for just 20 minutes, but many have experienced several hours without power, our correspondent says.
The power cuts, as well as high food prices and water shortages, will worry the government ahead of parliamentary elections due later this year, she adds.
The Egyptian authorities are urging consumers not to waste electricity and are promising to increase the capacity of the national grid.