Q&A: Resuming direct Middle East peace talks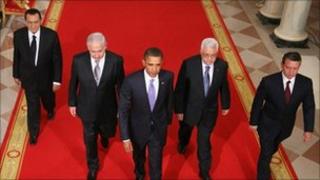 Israeli and Palestinian leaders resumed direct peace negotiations in Washington in September 2010 - their first face-to-face talks since December 2008.
But President Barack Obama's push for a new Middle East peace deal faltered just weeks later, when US efforts to get Israel to curb its illegal settlement building on land the Palestinians want for a future state failed.
The Palestinian leadership has refused to return to the negotiating table without a renewed ban on Israeli settlements, and the talks have effectively deadlocked.
There is little optimism in the region that this latest effort will succeed in resolving issues at the core of one of the world's most intractable conflicts, after nearly two decades of on-off talks have produced few results.
What has come of the talks so far?
After the fanfare of the formal re-launch of talks in Washington on 2 September, the Israeli and Palestinian leaders met just once in the region, and agreed to follow-up talks every two weeks.
But days later, on 26 September, Israel's settlement freeze expired and the talks were suspended. Israeli Prime Minister Benjamin Netanyahu's fractious coalition government refused to extend the settlement ban. Meanwhile, the Palestinian Authority President, Mahmoud Abbas, got support from the Arab League to stick to his demands for a freeze.
On 7 December, despite weeks of diplomacy, US negotiators announced that they had failed to get Israel to renew its settlement ban. But Washington said that it was still committed to securing a peace deal through other means and that it would hold talks with Israeli and Palestinian negotiators in the coming weeks on ways to keep the process alive.
What do the sides want?
Mr Netanyahu says he supports a Palestinian state, but it must be de-militarised, with an Israeli security presence along its eastern side, and it must recognise Israel as a Jewish state. Jerusalem, where the Palestinians want their capital, must remain Israel's eternal, undivided capital. This is a tougher stance than that of his predecessor Ehud Olmert, but it remains unclear whether it is an initial bargaining position rather than a statement of un-crossable red lines.
The Palestinians want a viable, independent state in the West Bank and Gaza, with their capital in East Jerusalem. They want the state's territory to be based on the land that Israel occupied in 1967, but are willing to accept a partial land swap, allowing some Israeli settlement blocs to stay in Israel in exchange for territory now in Israel.
The US is trying to broker a compromise, given the divergent positions of the parties on the core issues of the conflict.
What happened last time they talked?
Direct negotiations between Mr Olmert's government and the Palestinians broke down in December 2008, as Israel launched a major military offensive on the Hamas-ruled Gaza Strip in response, Israel said, to Palestinian rocket fire. This coincided roughly with the end of Mr Olmert's term in office and his replacement by Mr Netanyahu, who took several months even to back publicly the concept of a Palestinian state.
The US special envoy to the Middle East, George Mitchell, had to shuttle between Benjamin Netanyahu and Mahmoud Abbas for months to get them back to the negotiating table.
During the talks, Mr Olmert and Mr Abbas's teams exchanged maps of possible border solutions, but failed to reach agreement. Mr Olmert says his offer was the most generous ever made to the Palestinians - international supervision of Jerusalem's holy sites, the symbolic return of a few thousand Palestinian refugees and, according to Haaretz newspaper, Israeli withdrawal from 93.7% of the West Bank, plus the equivalent of 5.8% of its area from Israel in a land swap.
Mr Abbas's team said it produced a map which offered to let the Israelis keep 1.9% of the West Bank in exchange for land in Israel.
What are the chances of success?
There is little optimism from either side, but President Obama is pushing hard for a deal.
As it stands, Mr Netanyahu has little room for manoeuvre as his current coalition includes strongly right-wing parties which would be opposed to even discussing the status of Jerusalem. But he does have the option of bringing the centrist Kadima party into government if he wants to make concessions.
Mr Abbas's position is weak. His democratic mandate has run out - elections are due but cannot be held because of the feud between his Fatah party and the Hamas movement. The two factions are bitterly divided. Hamas, which controls the Gaza Strip, home to 1.5 million Palestinians, is strongly opposed to the negotiations. If Mr Abbas did reach agreement with the Israelis, it would most likely be on terms Hamas would reject, although some of its leaders have suggested they might accept a deal if it was backed in a referendum.
What if the talks fail?
The Palestinian leadership has raised the possibility of appealing to the United Nations to declare Palestinian statehood on the 1967 ceasefire lines if the peace talks go nowhere. Meanwhile, it is working to build the economic and security institutions of a functional state by mid-2011. There has been speculation that this might lead to a unilateral declaration of independence by the Palestinians. Although Mr Abbas has ruled this out, the possibility remains troublesome for Israel. There are always fears that failure in the political process can lead to violence on the ground. Also, in a volatile region a conflagration between Israel and Hezbollah in Lebanon, or with Hamas in Gaza, could undermine attempts to make peace.