White House: Baghdad bomb 'won't derail democracy'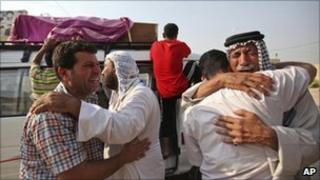 The deadly suicide bombing outside an Iraqi army recruiting centre in Baghdad will not derail Iraq's transition to democracy, the White House says.
At least 59 people, most of them young men lining up to enlist, were killed and more than 100 injured.
The withdrawal of thousands of US troops from Iraq would not be halted either, US officials said.
Another eight people were killed later when a fuel truck was bombed in Baghdad, the Associated Press reports.
Forty-four people were wounded in that attack, in which a bomb attached to a truck loaded with kerosene exploded in a Shia neighbourhood of north-eastern Baghdad.
The earlier attack was the bloodiest in Iraq for months and comes as the US prepares to end combat operations there by the end of August.
It also comes a day after the bloc that won the most seats in March's parliamentary election suspended talks on forming a coalition government.
"There obviously are still people who want to derail the advances that the Iraqi people have made toward democracy," White House spokesman Bill Burton said.
"But they are firmly on track. And we're confident that we're moving toward the end of our combat mission."
He said the Obama administration was confident a government would be formed.
"The fact that there is a lot of competition for who is going to be running that country is a good thing."
Bloody scenes
The US is to reduce its forces in Iraq to 50,000 at the end of this month, and plans to withdraw all troops from the country by the end of 2011.
The 50,000 that will stay until next year will help train Iraqi forces and support counter-insurgency operations, although they will be combat-capable.
The suicide bomber struck about 0730 (0430 GMT) on Tuesday morning as hundreds of young men queued to join the army.
Some had been there since the evening before.
Unemployment in Iraq is running high and people are desperate for jobs, says the BBC's Hugh Sykes in Baghdad.
Witnesses described bloody scenes after the suicide bomber detonated his device.
"I saw dozens of people lying on the ground, some of them were on fire. Others were running with blood pouring out," Ahmed Kadhim, a 19-year-old recruit, told the AFP news agency.
There was no immediate claim of responsibility, although officials have blamed al-Qaeda in Iraq.
After a long lull, it has been much more active recently, possibly to coincide with what the Americans are calling the end of their combat operations in Iraq on 31 August, our correspondent says.
Violence in Iraq is down from the peak seen during the sectarian conflict in 2006-2007, although the number of civilian deaths rose sharply in July.
Almost daily attacks on Iraqi forces and traffic police in Baghdad and Anbar province, west of the capital, killed some 30 people in the first two weeks of August.
With the spike in violence, Iraq's top army officer recently questioned the timing of the pull-out, saying the country's military might not be ready to take control for another decade.
Iraqi politics remains deadlocked five months after national elections, with no new government yet in place.
The al-Iraqiya bloc that narrowly won the most seats in March suspended talks on Monday with the second-placed Shia-led State of Law alliance of Prime Minister Nouri Maliki.