Iran 'spying trial' opens in Kuwait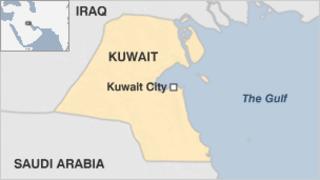 Six men, including a Kuwaiti soldier, and one woman have gone on trial in Kuwait accused of spying for Iran.
The charges include passing on confidential information to the Iranian authorities about the Kuwaiti army and US troops stationed in the Gulf state.
The defendants deny all the charges. Their lawyer has said they were forced to confess under torture, and has demanded a medical investigation.
Iran has denounced the case as a bid to create a "climate of fear" in the Gulf.
Three members of the alleged spy ring are Iranian, two are stateless, one is Kuwaiti and the other is Syrian, the AFP news agency reported.
The woman, an Iranian, was not present in court, it said. She had been freed earlier without bail.
Kuwaiti police uncovered the alleged spy cell in May. Local newspapers said the group was spying for Iran's Revolutionary Guards - a claim Iran has categorically denied.
Tehran's foreign ministry said in May that the allegations were aimed at "creating a climate of fear towards Iran," while a Revolutionary Guards official dismissed them as "baseless".