Israel to co-operate with UN probe into Gaza flotilla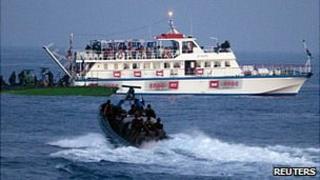 Israel has announced it will co-operate with a UN investigation into its raid on a Gaza-bound aid flotilla in May.
"Israel has nothing to hide, the opposite is true," Prime Minister Benjamin Netanyahu said.
The four-member panel, announced by UN Secretary General Ban Ki-moon, will include an Israeli and a Turkish member.
The commando raid on the six-ship convoy killed nine Turkish activists and caused an international outcry.
The panel, which will be led by former New Zealand PM Geoffrey Palmer and outgoing Colombian President Alvaro Uribe, will begin work on 10 August, Mr Ban said.
Mr Ban said the panel was an "unprecedented development".
Until now Israel had declined to take part in the inquiry and had set up its own investigation into the raid.
But Mr Netanyahu's office issued a statement saying: "It is in the national interest of the state of Israel to ensure that the factual truth of the overall flotilla events comes to light throughout the world and this is exactly the principle that we are advancing."
There are reports that the decision to co-operate has been welcomed in Turkey.
"This committee is an important step in remedying the injustice Turkey has encountered in the raid," a government source told AFP news agency.
Overpowered
The announcement by the panel follows months of negotiations by the UN, Mr Ban said.
There had been last-minute talks with the leaders of both Israel and Turkey, he added.
"I also hope that today's agreement will impact positively on the relationship between Turkey and Israel as well as the overall situation in the Middle East," he said.
The flotilla was made up of six ships, crewed by activists from a coalition of pro-Palestinian groups trying to break an embargo on ships entering Gaza.
Hundreds of Turkish activists were on board one of the vessels, the MV Mavi Marmara, when it was raided by Israeli commandos in international waters.
The activists said the commandos opened fire when they boarded the ship, but the Israelis say their troops were attacked by the activists.
Israel has blockaded the Palestinian territory since the Islamist militant group Hamas took control of it in 2007.
The Israelis, who recently loosened the blockade, say it is intended to stop militants in Gaza from obtaining rockets to fire at Israel.
Despite the blockade, rockets are sometimes fired from Gaza into Israel. There have also been rare occasions of rockets fired at Israel from Egypt's Sinai desert.
On Monday, one man was killed and three injured in the Jordanian port city of Aqaba. Israeli police said the rocket was targeted at the nearby Israeli resort of Eilat and was one of at least five fired from the Sinai.
Egypt has denied that its territory was used to launch the apparent attack.