Hamas fighter killed in Israel air strikes on Gaza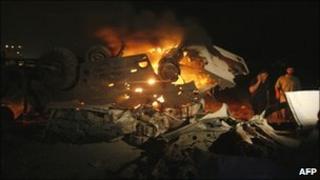 Israeli air strikes on the Gaza Strip have killed a Hamas fighter and wounded several other people.
Missiles struck central Gaza and Gaza City late on Friday; tunnels on the strip's southern border were also hit.
The strikes came after a rocket fired from the coastal enclave by militants earlier on Friday hit the Israeli city of Ashkelon on the Mediterranean coast.
That attack caused no casualties but damaged a building and cars in the city, 12km (7 miles) north of Gaza.
Israeli Prime Minister Benjamin Netanyahu earlier said he took the rocket attack on Ashkelon - which has a population of 125,000 - "very seriously".
The city's mayor said the attack was the most serious since Israel ended an offensive against the Gaza Strip in January 2009.
Reduced violence
Hamas - the Islamist group which controls the territory - named the dead militant as Issa Batran, 42 - a commander of the group's military wing in central Gaza and a rocket maker.
The military wing, the al-Qassam Brigades, said eight other Hamas supporters and three civilians were also injured in air strikes on a Hamas military training camp in Gaza City, smuggling tunnels along the Gaza-Egypt border and a target outside a central Gaza refugee camp.
The group said it would avenge the killing.
Israel's military confirmed the air strikes and said they came in response to the Ashkelon attack.
Rocket fire from Gaza has reduced in the past year after Hamas reined in attacks, but sporadic fire from other militant groups continues.
Correspondents say such attacks are almost always ineffective, with rockets mostly landing in open fields.
One Thai farmer in Israel has been killed in the past year.
Dozens of Palestinians, some of them civilians, have been killed in attacks from Israel over the same period.