Ahmadinejad offers Iran couples cash to have babies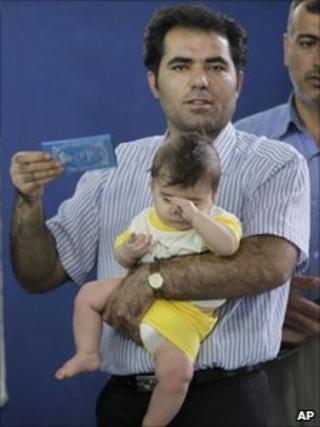 Iran's President Mahmoud Ahmadinejad has launched a new policy to encourage population growth.
Every newborn child will receive $950 (£608) deposited into a government bank account, plus $95 (£60) each year until they reach 18.
The money may be spent on education, marriage, health and housing.
Previous governments had tried to curb Iran's booming birth rate by offering cut price contraceptives and vasectomies.
Making babies
Since the Islamic Revolution in 1979, the population of Iran has roughly doubled. But most of the increase happened in the early years of the Islamic Republic, with a degree of official encouragement.
Then the government changed course. Incentives such as free or cut price contraceptives and vasectomies succeeded in dramatically reducing the population growth.
President Ahmadinejad, though, condemned these as policies from the realm of the "secular world", in other words, not suitable for an Islamic Republic.
In the past he has suggested that Iran could sustain a population of 150 million - twice the current size. So instead of families being encouraged to limit their size, they will now receive payment for every child they have.
Some Iranians will query where the money will come from, and whether it is being well spent.
The previous rapid population growth put high pressure on infrastructure and services, as evidenced every day by the notorious Tehran traffic.
Another question will be whether the new policy will achieve its goal. Iranian society has changed dramatically in recent years. Nearly two-thirds of university students are women, for example.
They may not be so responsive to the government's call for them to spend their lives producing as many babies as possible.