Lawyer in Iran stoning case 'missing'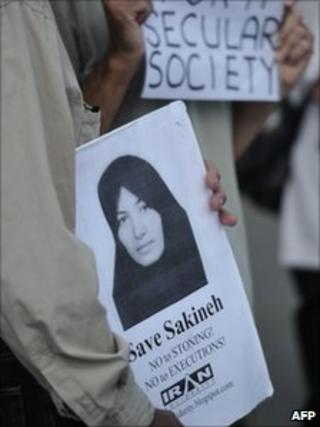 Rights group Amnesty International has accused Iran of persecuting a lawyer involved in the high profile case of a woman sentenced to death by stoning.
Mohammad Mostafaei, who is defending the woman, was called in on Saturday for questioning at Tehran's Evin prison. Amnesty says he appears to have gone missing after his release.
The authorities have since detained his wife and brother-in-law, it says.
Mr Mostafaei is a known critic of Iran's judicial system.
He has defended many juvenile offenders, political prisoners and others sentenced to stoning.
Among his most high-profile clients is Sakineh Mohammadi Ashtiani, who was sentenced to death by stoning following a conviction for adultery.
Although that threat was lifted earlier this month, she still faces execution by hanging.
The case has prompted outrage all over the world, and protests were held in a number of countries at the weekend.
In a statement, Malcolm Smart, Amnesty International's Middle East and North Africa director, said: "Mohammad Mostafaei is a thorn in the side of the Iranian authorities and we fear that he is being persecuted in an attempt to stop him carrying out his professional activities," said
The Iranian authorities have clearly been angered by the international campaign to save Ashtiani, says the BBC's Jon Leyne in Cairo.
The government has also put pressure on another lawyer involved in the case, as well as Ashtiani's son, who has been campaigning hard for her release, our correspondent says.
An extended report on state television blamed exiled opposition groups for using the issue to stir up demonstrations against Iran, and now the Iranian government appears to be trying to silence her lawyers, he adds.