Houthi rebels 'take Yemen army position'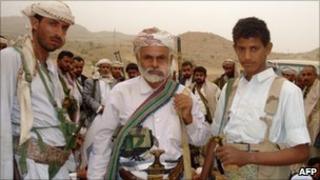 Shia rebels in northern Yemen have taken over an army post and captured a number of soldiers, officials say.
Both soldiers and rebels were said to be killed in the clashes, but the number of casualties remains unclear.
The incident follows the announcement at the weekend of a truce between the rebels - known as the Houthis - and government-backed tribes after a week of clashes left up to 70 people dead.
Intermittent fighting in the past six years has killed thousands of people.
The rebels complain of political, social and religious marginalisation, which the government denies.
Southern front
Meanwhile, in southern Yemen - where the government is battling an insurgency believed to be supported by al-Qaeda - officials said a senior leader of the group and two al-Qaeda militants were killed in clashes.
The militants had fired machine guns and rockets at soldiers who were posted near a foreign oil company in the southern province of Shabwa, officials said.
They were believed to have been behind a night-time ambush in which five Yemeni soldiers died last week.
The dead included al-Qaeda commander Zayed al-Daghari, Yemen's defence ministry said in a statement on its website.
Yemeni forces have stepped up security following the recent attacks on soldiers in Shabwa province, where many foreign oil companies are located.
On Sunday, militants ambushed a Yemeni army patrol, killing six soldiers in the second major attack on local security forces in Shabwa province in a week.
Radical cleric Anwar al-Awlaki, who has been linked to al-Qaeda attacks in the US, is thought to be in the area.
The government has intensified its operations since the group's Yemen branch, al-Qaeda in the Arabian Peninsula (AQAP), claimed the attempted bombing of a passenger plane headed for the US city of Detroit on 25 December last year.
There are growing fears that Yemen could descend into chaos and become a new base from which militants could launch attacks against the West.