Israeli Arab Raed Salah jailed over spitting incident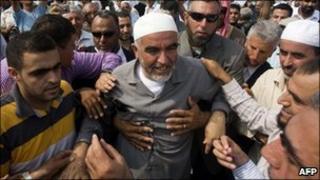 A prominent Israeli-Arab leader has begun a five-month jail sentence for spitting at a policeman during a protest in East Jerusalem more than three years ago.
Raed Salah turned up at the prison in Ramla accompanied by dozens of his supporters.
He was charged in relation to a 2007 demonstration over Israeli renovation work near the Aqsa mosque in Jerusalem.
He heads a radical wing of the Islamic Movement in Israel.
His original sentence of nine-months was shortened by an Israeli court. Court documents said he insulted a border policeman and spat in his face, but he has always denied the charges.
Raed Salah has been detained by the Israelis a number of times, including after taking part in the flotilla trying to reach Gaza in May, when nine Turkish activists were shot by Israeli forces.