Iran aims to send man into space by 2019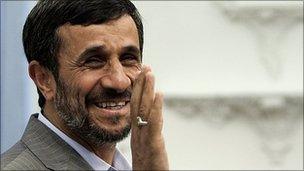 Iranian President Mahmoud Ahmadinejad has said his country plans to send a man into space by 2019, official state media report.
Mr Ahmadinejad said he had brought the date forward in response to pressure from Western powers over Iran's nuclear programme.
Last month the UN agreed to a fourth round of sanctions against Iran.
Iran denies that its long-range ballistic technology is linked to its atomic programme.
"In response to threats and Security Council resolutions against Iran, the plan was pushed forward," Iran's Press TV cited Mr Ahmadinejad as saying.
In February, Iran successfully test-fired the Kavoshgar-3 rocket, which carried a rat, turtle and worms.
The country launched a domestically made satellite into orbit for the first time in 2009.
Earlier this month, Telecommunications Minister Reza Taghipoir said the country intends to launch another satellite, Rasad 1, in the last week of August.