Three Spaniards file charges over Israel flotilla raid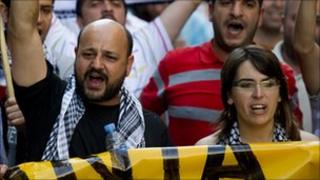 Two Spanish activists and a journalist arrested in a raid by Israel on a Gaza-bound flotilla are filing charges against Israel's prime minister.
The three accuse Israeli PM Benjamin Netanyahu, six cabinet ministers and the navy commander of illegal detention, torture and deportation.
The UN has meanwhile named a team of experts to investigate the raid.
Earlier, Israel said it would return the three Turkish vessels it had seized during the interception on 31 May.
Nine Turkish activists died when Israeli marines attacked the flotilla, sparking an international outcry.
The pro-Palestinian convoy was carrying 10,000 tonnes of aid for Gaza in an attempt to break Israel's blockade of the territory.
Laura Arau, Manuel Tapial and David Segarra, who were on the Mavi Marmara ship, say they were held illegally in international waters by Israeli forces, tortured and forcibly deported to Turkey.
They claim the move contravened international law.
Spanish courts are yet to accept the case.
'No conditions'
The UN Human Rights Council has appointed three independent experts to investigate whether the raid violated international law, after the 47-member forum voted last month for an inquiry.
These include Sir Desmond de Silva from Britain, Karl Hudson-Phillips from Trinidad and Tobago, and Mary Shanthi Dairiam from Malaysia.
Israel has said it is undertaking its own investigation, but critics say it will not be impartial.
Israel announced earlier on Friday that it will return three ships that were part of the convoy to Turkey, Israeli public radio has reported.
Turkey had already been informed of the decision by the inner cabinet in Jerusalem, the report said.
Talks were held up by Israel's demand that the ships' owners should sign guarantees that they would not mount new aid missions to Gaza.
However, the inner cabinet decided to return the vessels without further conditions, an Israeli official is reported to have said.
The incident soured relations between Israel and Turkey, which withdrew its ambassador and suspended joint military exercises after the raid.