Fighting in north and south Yemen leaves 24 dead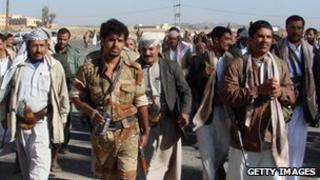 Fighting in Yemen has left 24 people dead, with government forces battling Shia rebels in the north and militants in the south.
Nineteen died overnight in the north when Shia Houthi rebels clashed with government-backed militia.
Dozens of people were killed recently in an upsurge of violence in the area, straining a truce agreed in February.
In the south, militants ambushed and killed five soldiers in an area where al-Qaeda is active.
Government forces are now battling insurgents on two fronts, BBC Middle East correspondent Jon Leyne reports from Cairo.
The Houthis are confronting the mainly Sunni government and there are suspicions that Iran is supporting them, but both Iran and some independent experts dispute this.
In southern Yemen, the government has different problems, battling an insurgency believed to be supported by al-Qaeda.
There are growing fears that Yemen could descend into chaos and become a new base from which militants could launch attacks against the West, our correspondent says.
A radical cleric based in the country is thought to have played a key part in the attempt on Christmas Day to blow up a passenger plane headed for the US city of Detroit.
Tribal leader killed
"There were very violent confrontations," a local official in the northern province of Amran told Reuters news agency.
"Nine soldiers and pro-government tribesmen were killed, as well as about 10 Houthis [rebels]."
Fighting between the government and Houthi rebels has been flaring up since 2004 and last year neighbouring Saudi Arabia was brought into the conflict.
At least 49 people were killed in fighting between the rebels and the pro-government Ibn Aziz tribe in recent days.
On Tuesday, a pro-government tribal leader, his son and his bodyguards were killed. The government accused the Houthis of mounting an ambush, but Houthi leaders said the deaths happened in fighting in which they lost men as well.
Houthis, named after their leader's family name, complain that they are the victims of economic and religious discrimination, which the government denies.
There is a history of fighting between the rebels and the Ibn Aziz clan, but these clashes are believed to be the bloodiest since the truce was announced.
Yemen agreed the peace deal with the rebels in order to quell violence in its northern regions, allowing it to concentrate on a simmering separatist struggle in the south, and the presence of al-Qaeda in the Arabian Peninsula.
The ambush on the five soldiers occurred in Shabwa province, and is reportedly the third attack on government troops by militants in the area in five weeks.
"There is suspicion that al-Qaeda was behind the operation," an official in Shabwa told Reuters.
Radical cleric Anwar al-Awlaki, who has been linked to al-Qaeda attacks in the US, is thought to be in the area.