Deadly car bomb explodes near Iraqi city of Baquba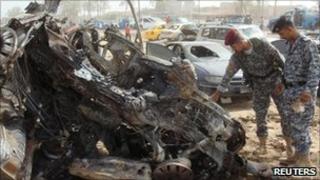 A car bomb has exploded in a marketplace near the Iraqi city of Baquba killing at least 15 people and wounding more than 40, police say.
The blast went off near a mosque in the predominantly Shia village of Abu Sayda, about 45 miles (70km) north of the capital, Baghdad.
Police said the latest explosion caused buildings to collapse, and women and children were among those injured.
The Baquba area has suffered several attacks in recent days.
At least six people died in a car bombing on Monday near a restaurant in Baquba, and on Tuesday several Iranian pilgrims were injured in an attack west of the city.
Officials have imposed a curfew in Abu Sayda in case there are more explosive devices planted nearby.
Baquba is the ethnically mixed capital of Diyala province, which has become a bastion of al-Qaeda in Iraq and remains one of the country's most unstable provinces.
A US soldier was killed on Wednesday as his convoy was hit by a roadside bomb as it drove through Diyala.
Meanwhile, Iraqi politicians have not yet agreed on the formation of a new government more than four months after parliamentary elections.
The BBC's Gabriel Gatehouse, in Baghdad, says there are fears that the longer this political stalemate continues, the easier it will be for insurgents to exploit the power vacuum.