Mass funerals for victims of Iran mosque bombings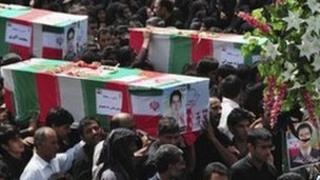 Thousands of mourners have thronged the streets of the south-eastern Iranian city of Zahedan as mass funerals were held for victims of the devastating bombings of a mosque.
Police said they had arrested 40 people in connection with Thursday's blasts, which killed at least 27 people.
Those detained were not accused of direct responsibility for the attacks.
Hundreds of worshippers were injured when two suicide bombers blew themselves up at a Shia mosque.
The first bomber blew himself up at a checkpoint outside the Jamia mosque in Zahedan, with a more deadly second blast moments later.
'Horrific attack'
A Sunni rebel group, Jundullah, has said it carried out the attacks in revenge for the hanging of its leader by Iranian authorities.
General Ahmad Reza Radan, Iran's deputy police chief, told the Iranian Fars news agency on Saturday that the suspects "intended to create insecurity in Zahedan after the bombing".
He spoke as thousands of people turned out in Zahedan for the funerals, chanting "death to terrorists" and "down with the US", according to footage shown on state TV.
Iran blamed foreign countries, particularly the US, for the bombing, which came as worshippers celebrated the anniversary of the birth of Imam Hussein, grandson of the Prophet Muhammad.
A senior Revolutionary Guards commander was quoted as saying the US would face "fallout" from the deadly attack.
"Jundullah has been supported by America for its terrorist acts in the past," Massoud Jazayeri, deputy head of the dominant ideological wing of Iran's armed forces, was quoted as saying by Reuters news agency. "America will have to await the fallout of such criminal and savage measures."
The BBC's Tehran correspondent Jon Leyne says Iran's deputy interior minister described those who carried out the latest attack as mercenaries of what Iran calls the "Global Arrogance".
But US Secretary of State Hillary Clinton condemned the "horrific attack" and called for the perpetrators to be held accountable.