Shahram Amiri spied for the US in Iran, reports say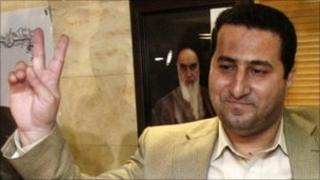 The Iranian scientist claiming to have been kidnapped by the US provided the Americans with information for years before his disappearance last year, the US media has reported.
Unnamed US officials told reporters Shahram Amiri was paid $5m (£3.3m) for "significant, original information".
Mr Amiri flew back to Tehran from the US on Thursday to a hero's welcome.
He disappeared while in Saudi Arabia on a Muslim pilgrimage last year, and resurfaced in July asking to go home.
The reports by the New York Times and the Associated Press both quoted unnamed US officials who wanted to counter Mr Amiri's assertions that he had been tortured by the CIA while in the US.
"His safety depends on him sticking to that fairy tale about pressure and torture," the New York Times quoted the unnamed official as saying.
"His challenge is trying to convince security forces that he never cooperated with the United States."
'Beyond reach'
Mr Amiri had walked away from a new identity set up for him and millions of dollars in benefits which is still sitting in an US account, the Associated Press quoted an unnamed official as saying.
"Anything he got is now beyond his reach, thanks to the financial sanctions on Iran," the official said.
The officials spoke to the journalists on condition they were not identified because they were not authorised to discuss the classified operation, it was reported.
But Mr Amiri has said he was subjected to extreme mental and physical torture by the Americans.
He disappeared last year and resurfaced this week in the Pakistani embassy in Washington asking to be repatriated.
The US said he had been in the country "of his own free will" and denied he was tortured.
Mr Amiri was a researcher at a university near Tehran.
He says he had no connection to any secret weapons programme.
The unnamed US officials told reporters he was indeed a low-level scientist, but they had hoped to use him to find a way of getting to more highly placed Iranian officials.
A former CIA agent, who also spoke on condition of anonymity, said Mr Amiri was part of an ongoing intelligence-gathering programme trying to attract Iranian nuclear scientists to the US.