Second telecom 'Israeli spy' arrested in Lebanon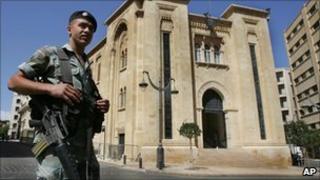 Lebanon has arrested a second employee of state-owned mobile telecom firm Alfa on suspicion of spying for Israel, security sources have said.
Tareq Rabaa, a telecoms engineer, was "more dangerous" than Charbel Qazzi, the employee arrested last month.
Both men face the death penalty if convicted. Israel has not commented.
Lebanon, which fought a war with Israel in 2006, has made a series of similar arrests in the last year, as part of an operation to dismantle spy networks.
Security sources told Reuters news agency that Mr Rabaa had worked for Alfa since 1996 and was suspected of contact with Israeli intelligence agents since 2001.
He has been held for questioning since Monday, they added.
Since last year, the Lebanese authorities have arrested dozens of people who are accused of collaborating with Israel, most suspected of leaking information about the militant group, Hezbollah.
Convicted spies face life in prison with hard labour or death, if found guilty of contributing to the loss of Lebanese life.