US military hands over last detention centre in Iraq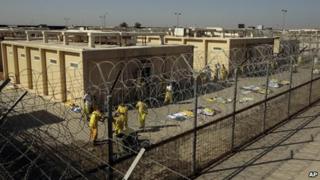 The US military has handed over control of its last remaining detention centre in Iraq, as it increases the pace of its withdrawal from the country.
The Iraqi authorities have taken charge of 1,600 of the 1,800 detainees at Camp Cropper, near Baghdad's airport.
The US military has been asked to hold the remainder, some of them alleged members of al-Qaeda in Iraq.
Earlier this week, 26 former members of Saddam Hussein's regime, including his deputy PM Tariq Aziz, were transferred.
'A new era'
At a ceremony in a hangar at Camp Cropper on Thursday, US military officials gave their Iraqi counterparts a giant key as a symbol of the transfer of power.
They said they were confident that prisoners would not be treated badly under Iraqi supervision - and admitted some past mistakes.
Major General Stephen Lanza, US military spokesman in Iraq, said: "To be perfectly frank, we have learnt from our experiences here."
Iraqi Justice Minister Dara Nureddine Dara was among some 100 officials who gathered to see the facility renamed Karkh prison.
"We must ensure we make this prison a model for all others in Iraq," he said. "The days of mistreatment and abuse of prisoners are gone."
The US deputy commanding general for detainee operations, Jerry Cannon, added: "This is the first day of a new era."
Tariq Aziz gave himself up in April 2003, about a month after the US-led invasion, and had been housed at Camp Cropper in special quarters.
The 74-year-old was sentenced to 15 years in prison for his role in the 1992 execution of 42 merchants found guilty of profiteering.
Another 29 former regime figures were handed over to Iraq last year. Only one, Abdul Ghani Abdul Ghafour, faces the death penalty.
Poor record
The BBC's Gabriel Gatehouse in Baghdad says the handover of Camp Cropper would be met with a mixed reaction.
On the one hand it falls in line with the ever-increasing pace of the US military withdrawal and the full transfer of sovereignty, our correspondent says.
But if the US has a chequered history of care for its detainees in Iraq - most notably the photographed abuse of detainees at Abu Ghraib in 2004 - so the record of post-Saddam Iraqi administrations is little better, he adds.
Persistent cases have come to light of detainees being held without charge, sometimes in secret prisons, suffering excruciating torture.
Prisoners have also complained about overcrowding and poor conditions.
However, Deputy Justice Minister Busho Ibrahim insisted the Iraqi authorities were ready to assume control of Camp Cropper.
"We have been running dozens of prisons, and we are confident of our ability to run all prisons," he told the Associated Press.
Eight members of the former regime, including ex-defence minister Sultan Hashim al-Taie, are among the 200 detainees who will remain in US custody.
They will be handed over before US forces withdraw in December 2011. Some 50,000 combat troops are scheduled to leave by the end of August.