Guide: Eased Gaza blockade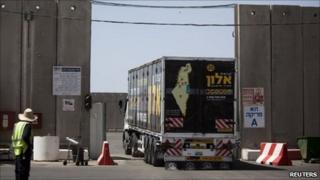 Israel agreed to ease its blockade on the Gaza Strip in mid-June - after coming under intense international pressure over its deadly raid on a Turkish aid ship.
The vessel was trying to get humanitarian supplies to the territory, where the majority of the 1.5 million Palestinian residents relies on foreign aid.
Under its old rules, Israel allowed only a few dozen types of products, including basic food and medicine, into Gaza.
Now virtually all consumer goods - from clothing and crayons, to books and musical instruments - will be allowed in, with the exception of "blacklisted" items that include weapons and "dual-use" consumer goods that could have a military use.
But because Israel will continue to ban most travel and exports, and restrict the import of much needed construction materials, the new rules are unlikely to restore the territory's devastated economy or allow the rebuilding of all that was destroyed in Israel's campaign in Gaza at the end of 2008 and beginning of 2009, correspondents say.
Israeli officials say the restrictions are essential for preventing the supply of weapons to Hamas, the Palestinian militant group which controls Gaza.
The international community, including the US, EU and Britain, has welcomed the easing of the blockade. However, many governments are calling for the blockade to be lifted altogether, arguing that it is unsustainable.
But Hamas says the concessions are of no use and that the blockade should be fully lifted.
The Rafah crossing, on the Gaza border with Egypt, has been open to some pedestrian traffic only, since early June.
Here is an overview of how the eased blockade will work.
Banned list
Israel has moved from its old list of permitted goods - which critics had claimed was arbitrary - to a new list of specifically banned items.
Under the new rules, anything not on the "list of controlled items" will be allowed into Gaza.
Since mid-June, when the list was finalised, Gaza residents have been able to receive previously banned items such as ketchup, chocolate, children's toys, spices, paper and perfume.
Larger goods - such as mattresses and washing machines - have been allowed in too.
Israel's list of banned goods includes weapons and "dual use" items that Israel fears might be diverted by Gaza militants for military purposes.
These include fertilisers, gas tanks, drilling equipment and water disinfectant.
Israeli authorities said they would update the list of banned items from time to time.
Construction materials
The internationally-funded construction of schools, sewage treatment plants and housing projects in Gaza has largely been on hold since 2006.
Aid agencies say building materials are also badly needed in Gaza as the blockade has prevented much reconstruction taking place since Israel's devastating 22-day military offensive, which ended in January 2009.
Construction materials - such as cement, steel cables and concrete blocks - will now be allowed into Gaza , but only under supervision by international aid agencies for projects approved by the Palestinian Authority headed by President Mahmoud Abbas and based in the West Bank.
Correspondents say it will still be hard to get hold of the gravel and sand required for construction, as the UN says it is getting only a fraction of what it needs.
Movement of people
The movement of ordinary Palestinians is still severely restricted, both between Gaza and the West Bank, and into and out of the Gaza Strip.
Israel's cabinet has only eased entry and exit requirements for the employees of international organisations, and for "humanitarian and medical" cases.
Unless they are very sick, it is extremely difficult for Palestinians to get out of Gaza, correspondents say.
The Israeli cabinet decision has, however, pledged to "streamline" processes for granting entry and exit permits.
Egypt ordered the opening of the Rafah border crossing - Gaza's only crossing which bypasses Israel - after the Israeli flotilla raid.
Prior to that, the Egyptian authorities had kept Rafah largely closed, opening it for humanitarian cases on two days a week.
Currently, only certain groups of Gazans are being allowed in out of the strip via the Rafah border crossing:
students attending courses abroad
people requiring medical treatment
Gazans with foreign passports or the right to residency abroad.
For others, it is a question of applying to the Egyptian authorities for permission to leave Gaza.
There are, currently, no direct or formal contacts between the authorities in Gaza and the Egyptian border authority.
Every morning an Egyptian border official delivers a list of those permitted to leave that day. These people board buses and are driven across the border.
There is no pedestrian traffic through Rafah, nor are goods moved across the border.
Economy and transport
The previous ban on the import of raw materials and exports forced most of Gaza's 3,900 factories to shut down, wiping out tens of thousands of jobs.
Correspondents say Gaza's devastated economy is unlikely to pick up under the relaxed rules.
Aside from restrictions on much-needed construction material, the sea blockade remains in force and exports are still forbidden, with the exception of small seasonal shipments of strawberries and flowers.
In justifying the export ban, Israel points to a suicide bomber who blew himself up in an Israeli port after hiding in the walls of a shipping container.
Rights groups say restrictions continue to apply to items that could be used for manufacturing that have no apparent security threat.
Textiles, glucose, packaging boxes and industrial-sized tubs of margarine are among the items still banned, Gisha, an Israeli legal rights organisation, says.
Truck crossings - with the exception of Kerem Shalom in the southern Gaza Strip - are either closed or not operating near capacity.
The Kerem Shalom crossing is not big enough to handle the daily flow of trucks needed to meet Gaza's needs. While other crossings remain closed, the flow of materials that are no longer banned faces long delays.
Efforts will be made to expand operations at operating border crossings, but additional passages will only be re-opened when security concerns are "fully addressed", the Israeli cabinet decision says.
Conditions
Israel imposed the blockade in June 2006 after one of its soldiers, Gilad Shalit, was captured by Gaza militants.
It tightened the blockade a year later when Palestinian militant group Hamas seized control in the coastal strip, driving Fatah forces out of Gaza.
The aim of the blockade was to weaken Hamas, end rocket attacks from Gaza and get back Sgt Shalit.
Hamas, on the other hand, insist that Sgt Shalit's release is tied to the release of thousands of Palestinians in Israeli detention, not the blockade.
But the restrictions were widely described as collective punishment of the population of Gaza, resulting in a humanitarian crisis.
According to the UN, about 80% of Gazans are dependent on some kind of humanitarian aide and the economy is at a virtual standstill. With no easing of restrictions on the import of raw materials, exports and the movement of people, analysts say the the underlying causes of the problems faced by Gazans are not being addressed.
Water and electricity cuts are frequent, and sporadic petrol and diesel shortages cause major problems.
Gaza's hospitals were short of equipment and medicines, and people were dying as they waited for permission to be treated elsewhere, the UN warned in January.
Although details of the eased blockade were announced on 5 July, the new regime is still being implemented and it remains to be seen exactly how it will work.
Israel says it will only lift the blockade if Hamas releases the soldier, recognises Israel, and renounces violence.
Hamas, which is classified as a terrorist group by the US, Israel and the European Union, has rejected those terms.
Hamas has dismissed Israel's new policy as worthless and demanded that the blockade be lifted entirely.