Ecuador promises fuel price cuts amid protests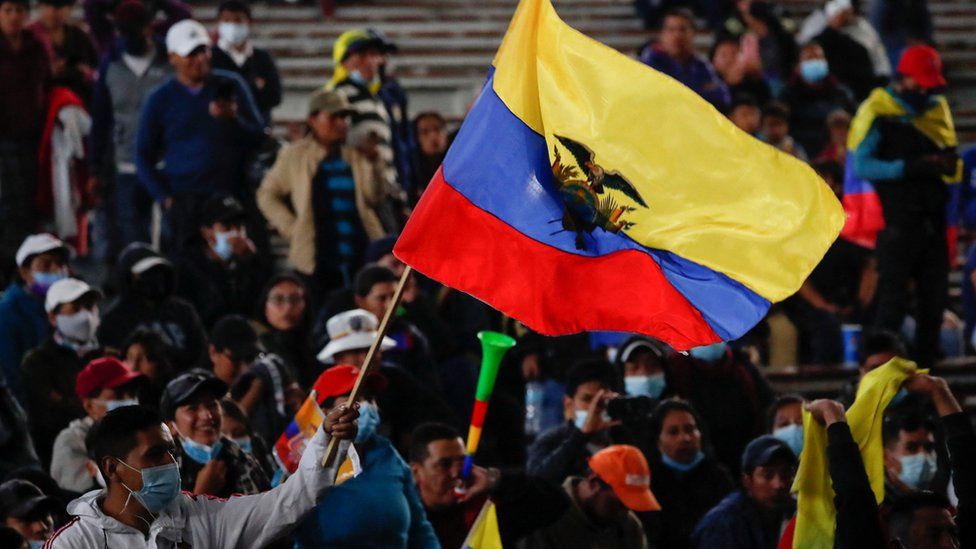 Ecuador's president has promised to lower fuel prices across the country after weeks of disruptive mass protests over the cost of living.
Protesters have blocked key roads and staged mass rallies demanding action on fuel and food prices - some of which have turned violent.
In response, Guillermo Lasso vowed to cut 10 cents a gallon from both petrol and diesel prices.
That is only a third as much as demonstrators had demanded.
Since 2020, the cost of diesel has almost doubled and petrol prices have risen dramatically in the oil-producing nation.
President Lasso also said that despite his move to lower fuel prices, any violent protesters would face consequences for their actions.
"Ecuadorians who seek dialogue will find a government with an outstretched hand," he said in a Sunday night address. "Those who seek chaos, violence and terrorism will find the full force of the law."
The move comes after an initial meting between the government and the Confederation of Indigenous Nationalities of Ecuador (Conaie), which began the demonstrations.
No deal was reached, but the two sides agreed to begin dialogue after a state of emergency was lifted at the request of Conaie, more than a week after President Lasso imposed it.
But the president is also facing political pressure amid the crisis. Over the weekend, the national parliament began a debate tabled by the opposition on removing him from office. It is set to conclude later this week.
The extent of the disruption caused by the mass demonstrations is significant.
The blocking of key roads has led to fears of food shortages in the capital, Quito, as agricultural workers outside of it campaign for fairer food prices.
The weekend was broadly calm, as demonstrators took a break amid the political movements.
But concerns about supplies and the broad economic impacts remain.
On Sunday, the energy ministry issued a statement warning that oil production - a key export which the country's economy relies on - could come to an end within 48 hours if protests and roadblocks continued this week.
Production was at a "critical" point, it said, and could stop because of "vandalism, takeover of wells and closing of roads".
The country was hard-hit by the Covid pandemic and its economy is still recovering.