Ecuador protests: Security concerns after police station attack
By Robert Plummer
BBC News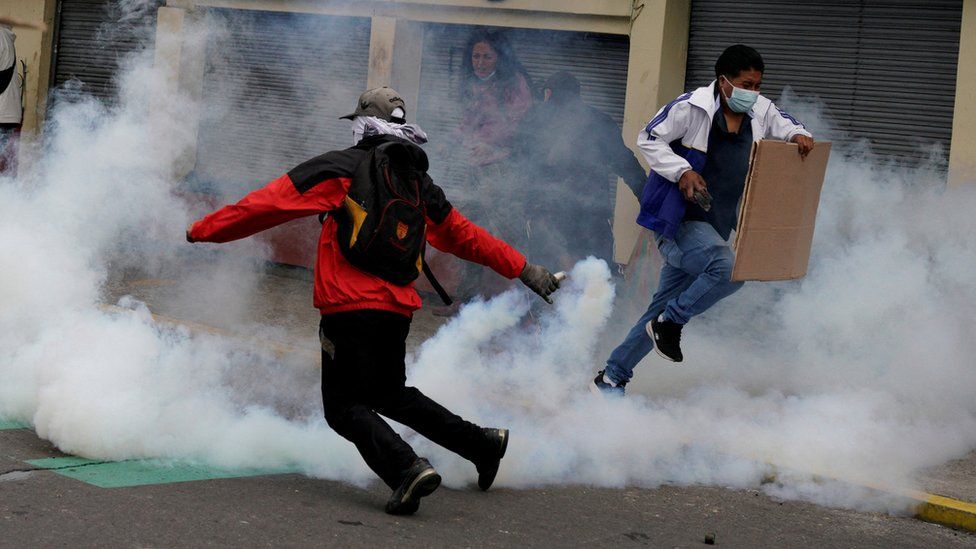 The interior minister of Ecuador has said police cannot guarantee security in the town of Puyo, after clashes on Tuesday in which a police station was attacked and one protester died.
The minister, Patricio Carrillo, said 18 officers were still missing.
The violence broke out on the ninth day of national protests against government economic and social policies.
The protesters' list of demands includes reducing the cost of fuel and price caps on agricultural goods.
The protests have been organised by a powerful indigenous organisation, the Confederation of Indigenous Nationalities of Ecuador (Conaie).
Demonstrations have been taking place all over the country. On Tuesday, there were also riots in the capital, Quito, as an estimated 10,000 indigenous people took to the city streets to oppose President Guillermo Lasso's conservative government.
Conaie said the demonstrator killed in Puyo on Tuesday, named as Byron Guatatuca, had been shot at point-blank range and the organisation blamed the government for his death.
But Mr Carillo, in a news conference on Wednesday, said the violence had been caused by "radical" members of the Kichwa and Shuar indigenous communities, who had begun attacking police in an "absolutely irrational" manner.
The nationwide demonstrations began earlier this month with a series of roadblocks as protesters used piles of burning tyres, trees and mounds of earth to cut off access to Quito.
He has been banned from leaving Ecuador and ordered to appear before the provincial attorney general's office twice a week.
Ecuador has been grappling with rising levels of inflation, unemployment and poverty.
Since 2020, the cost of diesel has almost doubled while the price of petrol has also increased sharply.
A $6.5bn (£5.3bn) financing deal negotiated between Ecuador's government and the International Monetary Fund during the height of the coronavirus pandemic is due to come to an end later this year.