Dom Phillips: Blood found in search for pair missing in Brazil
By Patrick Jackson
BBC News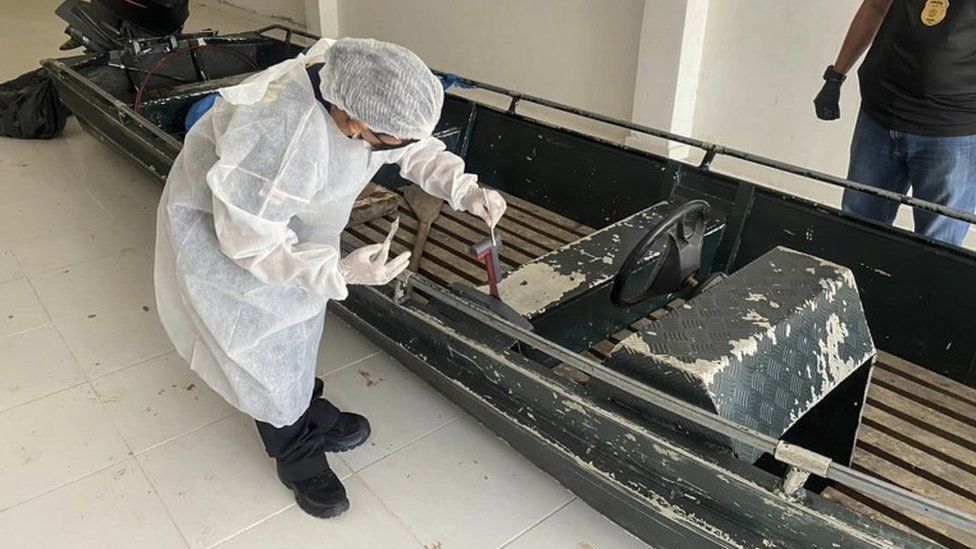 Police in Brazil are examining blood found in the search for British journalist Dom Phillips and local indigenous expert Bruno Pereira.
Traces of blood found on a boat belonging to a fisherman, who has been arrested, will be tested to see whether it is human or animal.
The pair went missing while travelling by boat on a reporting trip in the Amazon rainforest on Sunday.
Mr Pereira recently received threats over his work against illegal fishing.
The authorities said they were hopeful of finding the two men alive, but did not exclude any outcome, including that of murder in a region where drug-trafficking and poaching are rife, AFP news agency reports.
Both Mr Pereira, 41, and Mr Phillips, 57, who has written about threats to the Amazon for publications such as the Guardian and the Washington Post, are hugely experienced and planned their journeys thoroughly. They reportedly had a new boat and plenty of fuel.
In London, the journalist's sister, Sian Phillips, called on the UK authorities to put pressure on the Brazilian government to find the two men.
"We want to carry on with the search," she said in a statement to the media during a gathering of about 30 people in front of the Brazilian embassy.
"We want to find out what is happening to them and we want anyone responsible for any criminal act to be brought to justice. We want a persistent deep and open investigation."
Brazilian President Jair Bolsonaro, who was in Los Angeles for a summit, said: "Let's pray to God that they are still alive," but added, "With each day that passes, those chances fade."
The blood traces were found on the boat of fisherman Amarildo da Costa, known locally as "Pelado", who was questioned in the town of Atalaia do Norte. He has been charged with illegal possession of restricted ammunition.
Police say he was one of the last people to see Mr Pereira and Mr Phillips.
Mr da Costa is also suspected of involvement in illegal fishing for a buyer in Peru, police sources told Reuters news agency.
A lawyer for the fisherman, Davi Oliveira, told Reuters his client was not involved in the disappearance of the two men and was engaged in legal fishing. The same lawyer has since stepped away from the case, the news agency adds.
Six other people have been questioned in connection with the men's disappearance.
Some 250 members of the security forces have been taking part in the search, up from just about a dozen in the first days. They include divers and experts in jungle terrain. Two helicopters are also being used, as well as more than a dozen boats and drones.
Lead investigator Alexandre Fontes described the area as a "very complicated region" which he said could only be reached by helicopter, small plane or boat.
Indigenous rights groups which Mr Pereira worked with were the first to raise the alarm about the disappearance of the expert on isolated indigenous groups and the journalist.
The area where they disappeared is home to some 6,300 indigenous people from more than 20 groups.
As well as clashes with fishermen catching protected stock, it has also seen incursions by illegal gold miners, loggers and drug-traffickers who smuggle cocaine from Peru.
Both Mr Pereira, who has worked for the government's indigenous affairs agency Funai, and Mr Phillips, who was carrying out research for a book on the Amazon, documented these threats as part of their work.